Magic World™ mobile WIFI Microscope Camera (iPhone)
$ 39,95
Free shipping worldwide
Satisfaction Guaranteed
No Hassle Refunds
Secure Payments
FLASH SALE – BUY NOW AND GET 10% DISCOUNT. ENTER CODE AT CHECKOUT: TODAYMAGIC
This portable WIFI microscope camera for tablets and smartphones using Android & iOS (iPhone OS) lets you discover a whole new magic microscopic world, beautiful in colors, details and shapes. This will change your perception of the infinitely small world that you have around you.
If you have an iPhone (iOS 8.0 and over) or iPad, you definitively need this WIFI microscope as the standard one we have with the USB cable won't work on your Apple mobile device.
Recommended by thousands of people for its quality, fun and convenience with its extra WIFI feature freeing you from annoying cables, our digital microscope lets you feel the excitement of discovering a magic hidden world, turning you and your relatives into treasure hunters!
The perfect gift for your loved ones or to use when exploring the world. It's very useful for all the thrill seekers curious to see on the scale of the infinitely small.
Ready to go out of the box, it allows you to see even the smallest of details, in high resolution, directly on your tablet, iPhone with iOS or your Android smartphone.
You can take photos and videos to express your creativity and record your discoveries.
It's portable so feel free to take it with you when you travel, you never know what you can discover.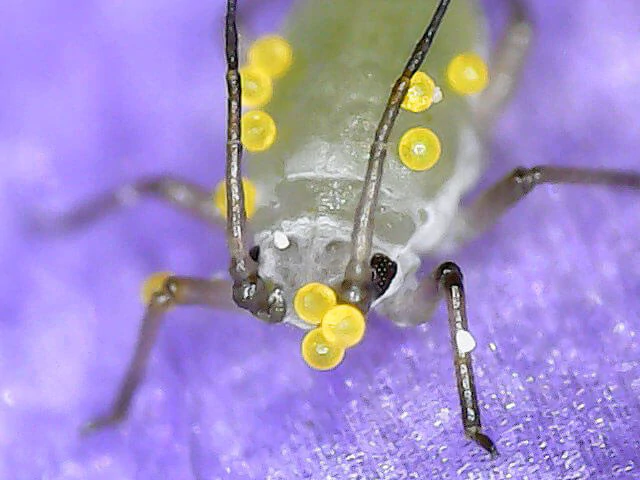 Aphid on a crocus flower with pollen balls on it – digital microscope camera

Observe details like skin pores, texture of clothes, gemstones, insects and plants or even the fine scratches on a collectible coin that would be impossible to detect with the naked eye. Look at your environment as never seen before.

Applied to jewelry, coin, stamp, electronics, skin & hair, print industrial inspection, laboratory research, medical analysis, biological inspection, and other inspection.

Magnifies objects up to 1000 times of their original size and uses a dynamic image sensor and 8 super bright white LED lights for creating detailed images that will impress your friends and relatives.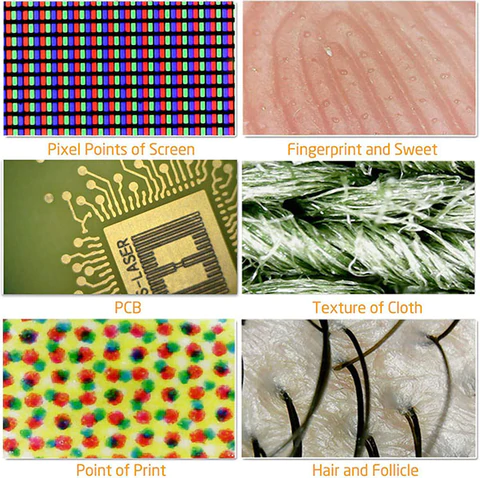 HOW IT WORKS
Our microscope allows you to snap photos or videos on the go while analyzing objects. You can use the camera tap button on your iOS device (iPhone/iPad) or Android smartphone/tablet with a photo app to avoid disrupting your image. Stay precise by using our easy device on-screen button features, or use our direct embedded buttons to take instant photography and high quality video recordings.
We use dynamic image sensors which keep steady from allowing you to get an in-depth 30 frames per second. The camera comes with a stabilizing stand to allow you to focus easily on the desired location of what you are analyzing.
The microscope has 8 LED lights built in with a dimmer switch to adjust it to a brightness which suits your surrounding light and time of day. On the side, we have the 1 click Snap Shot button which will instantly take a photo and save to your computer and a one-click zoom button to easily switch to your zoomed in presets all the way from 50x to 1000x.
This microscope is compatible with iOS and Android mobile devices using a WIFI wireless connection to transfer stunning real-time video to your tablet or smartphone. It is designed with instant photo, recording and sliding zoom buttons, suitable for any hobby or profession.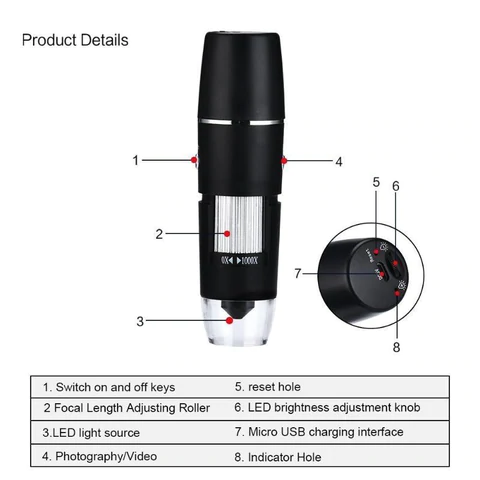 With a discoverable WIFI signal emitting from our MAGIC WORLD™ microscope, you will be able to connect any recent mobile device to its signal fast and easy.
The microscope is charged by USB. Once charged, you get an autonomy ranging from 90 min to 10 hours maximum depending on your usage. You have plenty of time to explore your environment!
The USB is intended to charge your mobile device only so you will control the microscope via its WIFI connection which gives you a lot of convenience on the go.
WIFI only works with the microscope and your tablet/smartphone, it is not a standard laptop WIFI. To use with a computer you need the USB cable.
If you don't have an iPhone/iOS device and you prefer to use only the microscope with a USB cable to take photos and videos with your Mac, laptop or Android smartphone, you can have a look at our MAGIC WORLD™ portable microscope camera instead.
Photos taken by Wingio's team with the microscope at different magnifications:
WiFi operating environment
Compatible with Android 5.0 and above systems, for iOS 8.0 and above systems.
WiFI operating environment supporting equipment requirements: support for 2.4Ghz (8201.1.11b/g/n) wireless data transmission equipment.
Important note: WIFI is only supported on your smartphone or tablet, not with your computer.
Technical specifications
Operating Systems: Android 5.0 and above, iOS 8.0 and above
Zooming multiple: 50 – 1000X
LED: 8 white light LEDs (adjustable brightness)
Imaging distance: manual adjustment (3mm to infinite)
Focus mode & range: manual adjustment, 0-40mm
Wifi connection range: 10m
Photo format: JPG
PC interface: USB 2.0
Power supply: 650mah built-in lithium, USB charging (5V DC, 1A)
Video resolution: 640*480px
Video format: MP4
Working hours: ≥ 90 minutes (full power state, battery age also affects working hours)
Operating temperature: 0-40 ℃, storage temperature:-10-60 ℃
Size: 135*30*30mm/5.31*1.18*1.18in
Weight: 200g
Package includes:
1 x WIFI digital microscope
1 x USB charging cable (1m)
1 x Metal base bracket
HOW TO USE
Install the free app "HVviewing" (or "Max-see") on your smartphone or iPhone from Google Play store or the Apple store.
Charging
The USB connection is for recharging the internal battery of the microscope. The camera does not connect via USB. You must first charge the microscope battery by plugging it into USB. You will see a red light while charging. Once charged, unplug the microscope camera, then press and hold the Off/On button for about 5 seconds. You will see a blue light near the USB connector.
Connect to WIFI
On your phone, look for a WiFi access point that begins with "HV". Connect to that. It is an access point built into the camera.
Using the microscope with the app
Once connected, start the HVviewing app, and touch the center (microscope) icon. You should see something, probably very blurry. Turn the brightness control near the USB connector toward the "+" symbol to adjust illumination. Adjust the silver thumbwheel to focus.
UPDATE: due to high demand we are running low on this product, please place your order while supplies last.
Estimated delivery:

– USA: 10 business days (USPS)
– France: 10 business days
– Rest of the world: 10-21 business days
Shipping & Delivery: all orders are shipped with tracking within 24 to 48 hours of you placing the order using USPS, Canada Post, or other carriers depending on your location and fastest available service. Free Worldwide Shipping
Typical delivery time frame is between 6 to 14 days. However, you may receive your items much earlier. All orders are shipped with a tracking number.
Satisfaction Guarantee: by purchasing our products you get a 2-year warranty and a 30-day free and easy returns right.