ROCKBROS Bike Smart Rear Light Q5
$ 33,95 – $ 61,95
Free shipping worldwide
Satisfaction Guaranteed
No Hassle Refunds
Secure Payments
Introducing the ROCKBROS Bike Smart Rear Light Q5 – your ultimate cycling companion, designed to keep you safe and visible on the road. This state-of-the-art rear light automatically adjusts to your environment, turning on and off based on light intensity and motion.
With its smart sensor chip, the Q5 expertly detects vibration and braking action, ensuring maximum visibility without being dazzling. Outfitted with a durable 6061 aluminum alloy chassis and a high-quality COB LED, the Q5 boasts an impressive 20+ hour runtime and is IPx6 waterproof.
Upgrade your cycling experience with the cutting-edge technology of the ROCKBROS Bike Smart Rear Light Q5, and ride confidently knowing you're secure and seen.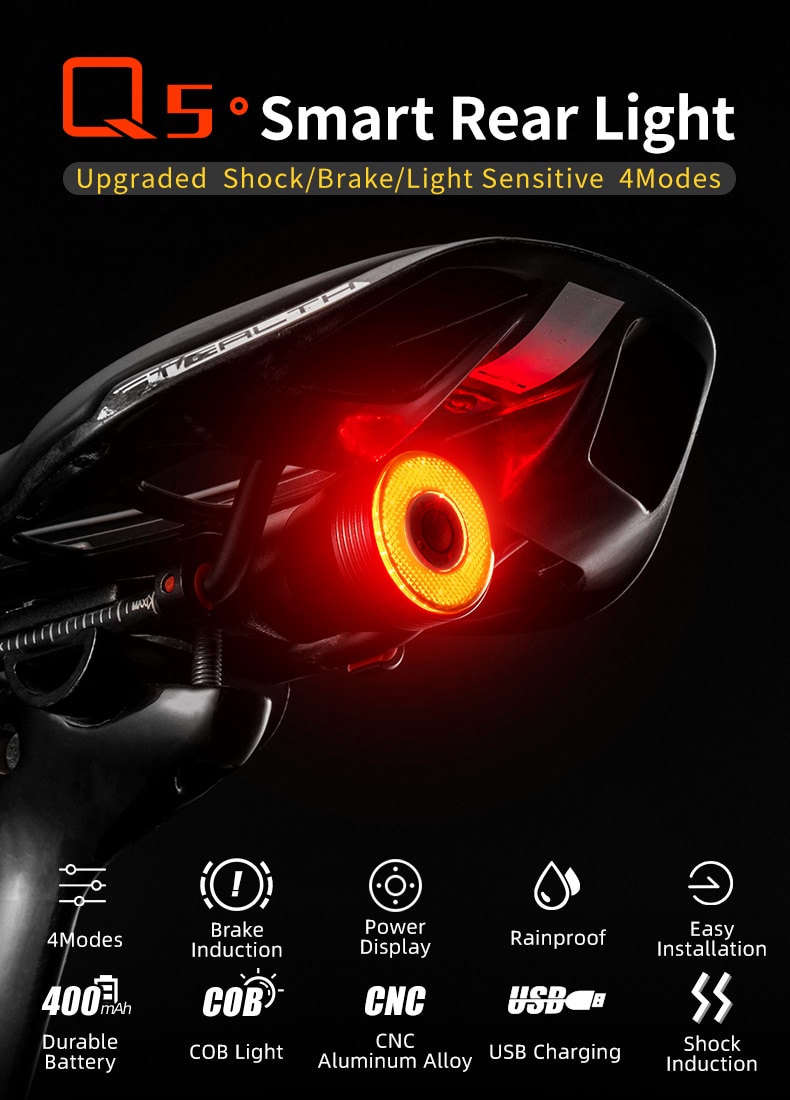 Key features
Advanced COB LED technology: High-quality lamp beads and lenses ensure bright, soft light that doesn't hurt the eyes.
Sturdy 6061 aluminum alloy chassis: Provides durability and long-lasting performance.
Smart light sensing: Highly sensitive sensor chip accurately detects vibration and braking action.
Automatic operation: Turns on/off depending on light intensity and motion, conserving energy when not in use.
Sleep mode: Automatically switches to sleep mode to save power when idle.
Easy seat rail mounting: Hassle-free installation on your bike.
Multiple flash modes: 4 different flash modes for customized visibility.
Impressive runtime: Over 20 hours of continuous use.
Rechargeable 400mAh Li-ion battery: Environmentally friendly and cost-effective.
Type-C charging: Convenient charging with the included cable.
Battery indicator: Flashes every 6 seconds to display battery life.
Compact and lightweight design: Weighs only 55g, making it easy to carry and mount.
IPx6 waterproof rating: Protection against water and unfavorable weather conditions.
Charging note: Use the included charging cable to avoid damage to the light.
With the ROCKBROS Bike Smart Rear Light Q5, you'll enjoy enhanced safety, convenience, and durability on all your cycling adventures.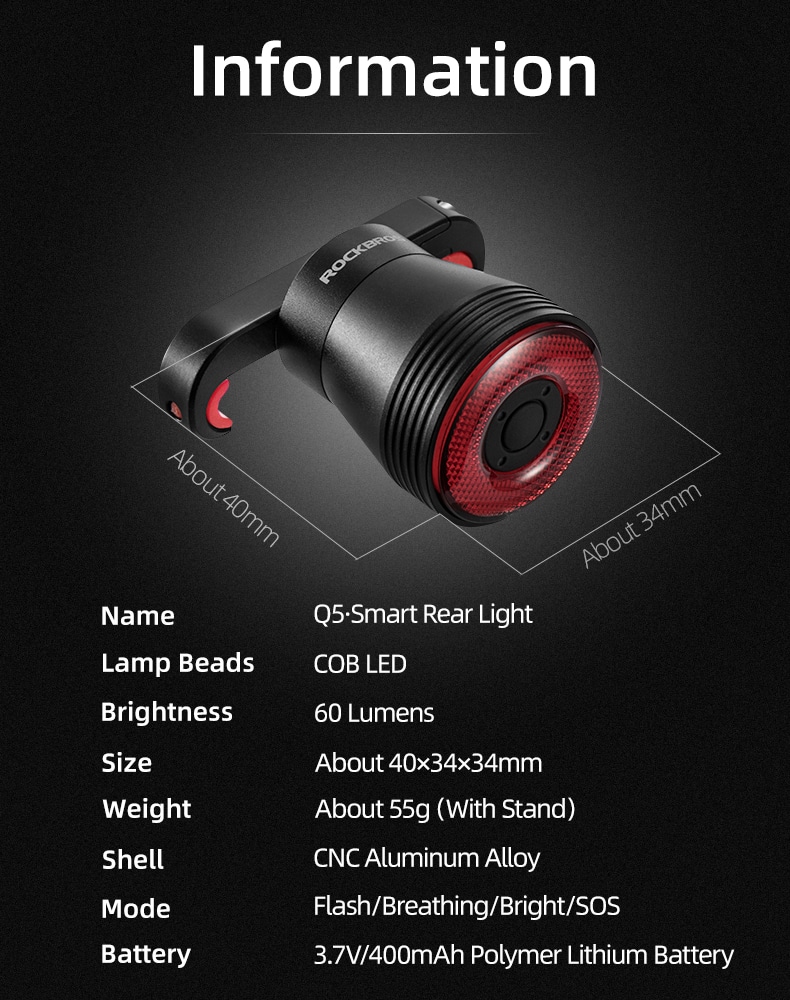 Intelligent Light Detection
Employs a high-precision, smart sensor chip. It accurately identifies vibrations and braking movements.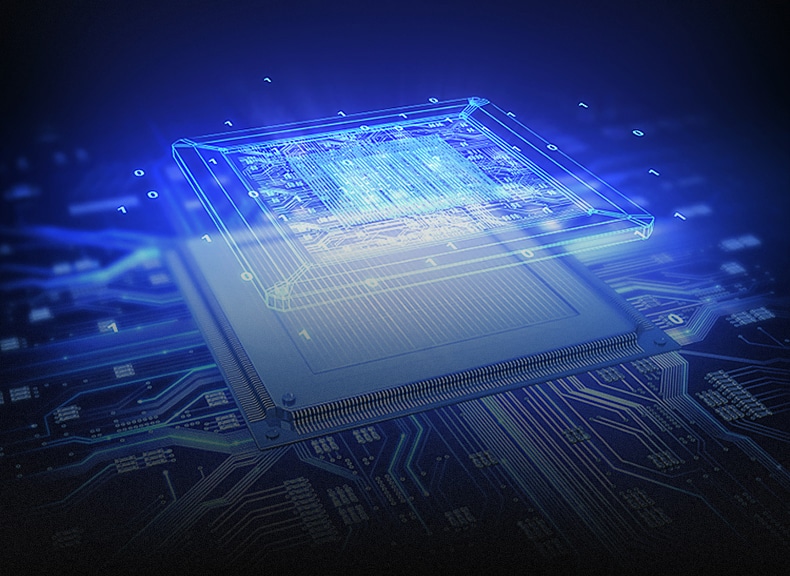 COB LED and Ensca Lens for Optimal Night Visibility
This innovative combination of COB LED and Ensca Lens technology ensures outstanding night visibility without the discomfort of dazzling light.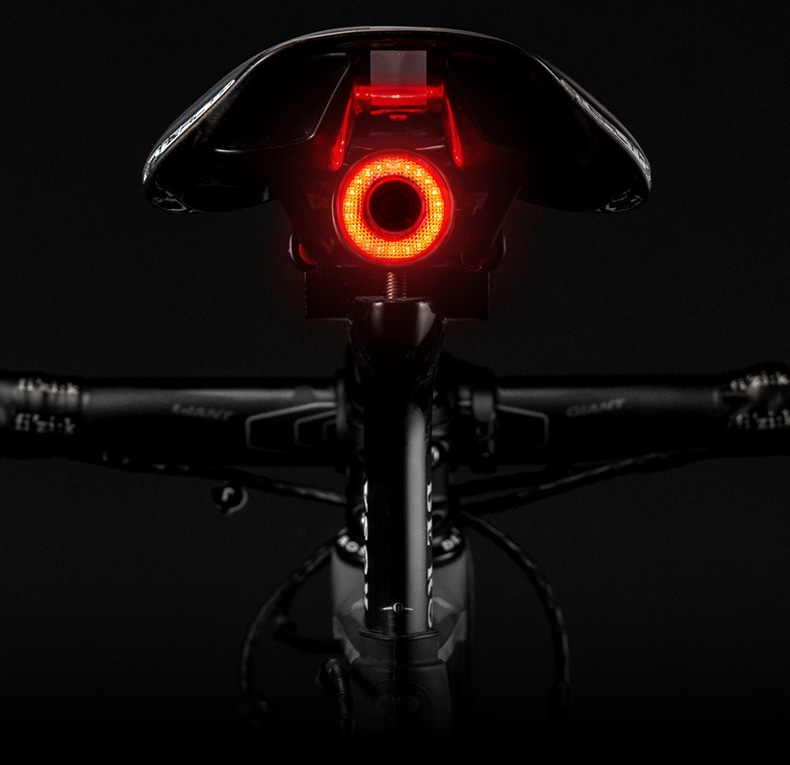 Cutting-EDGE TECHNOLOGY
The new Q5 taillights utilize advanced lamp beads and lenses, resulting in softer, eye-friendly lighting that provides enhanced safety and stability compared to older taillight technology.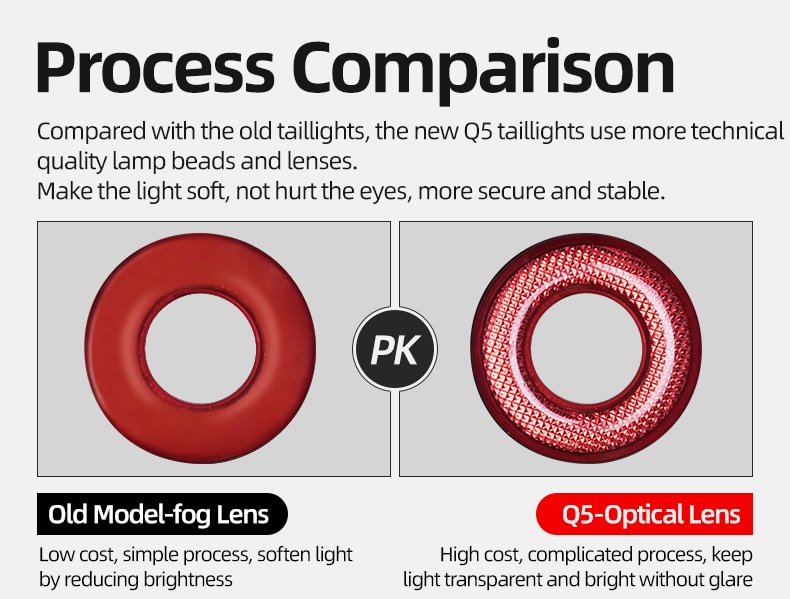 Fog Lenses for Older Models
Employing a straightforward and cost-effective method, fog lenses are utilized to diminish the intensity of light by reducing its brightness.
Optical Lenses for Q5 Models
Utilizing a complex and relatively expensive procedure, the optical lenses are incorporated to maintain the clarity and brightness of the light without causing glare.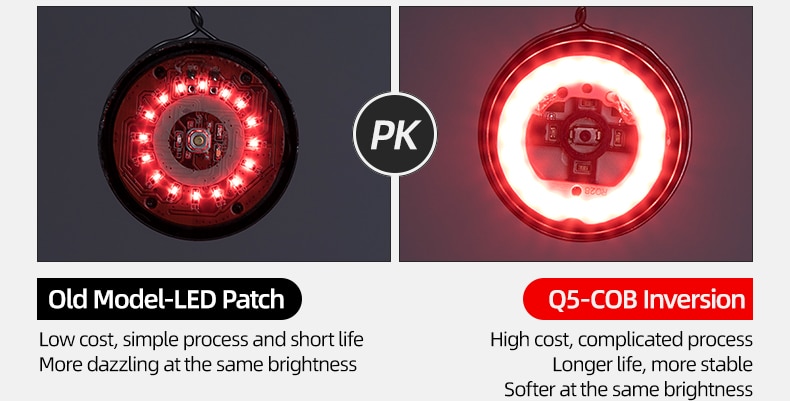 Old Model – LED Patch
Using a budget-friendly and straightforward process, LED patches are integrated, but their lifespan is relatively short. Additionally, they may appear more dazzling than other lights with the same brightness.
Q5 – COB Inversion
Despite the higher cost and complexity of the process, the Q5 uses COB inversion technology, resulting in a more stable and long-lasting light. The light also appears softer even when it has the same level of brightness as other models.
Brake Sensing – Integrated Accelerometer
Q5 features a built-in accelerometer and high-performance MCU, which is powered by a three-level digital filter algorithm, ensuring accurate detection of brake activity.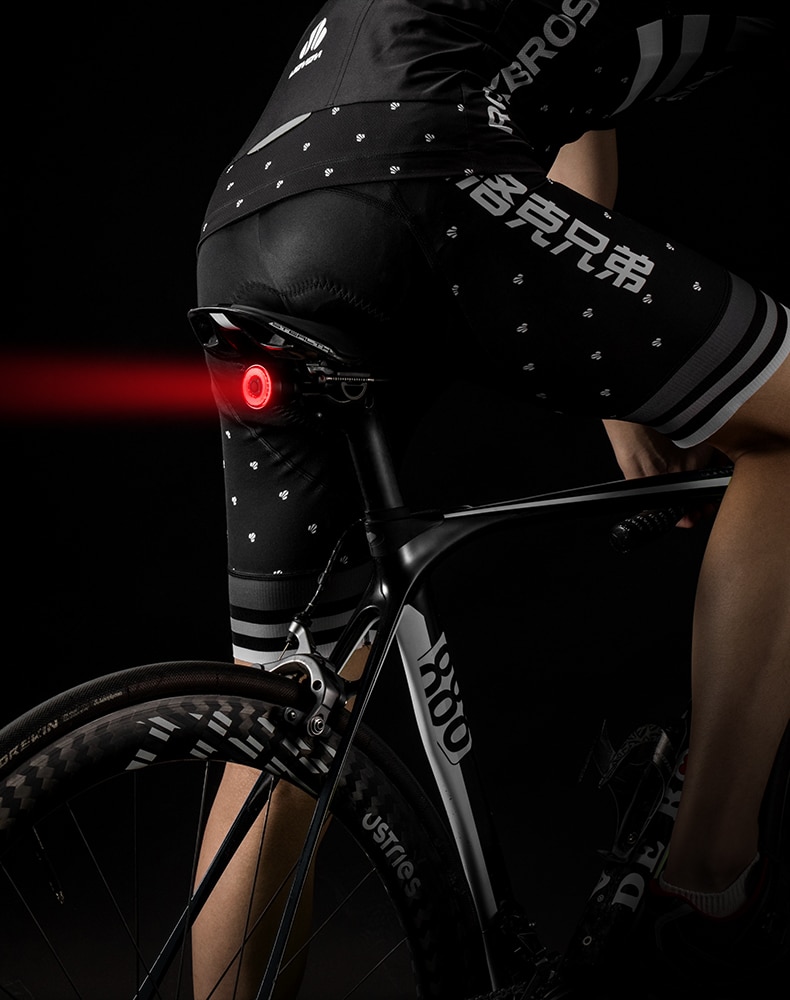 Shock Detection
The light will automatically turn off after 30 seconds of no vibrations and will turn on automatically once vibrations are detected, except when in constant light mode.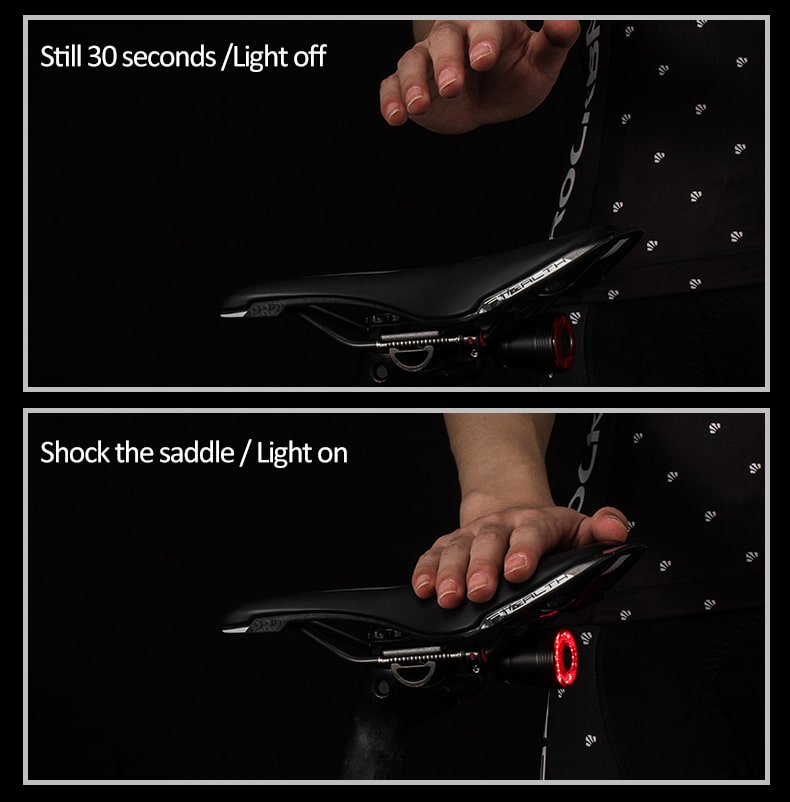 Intelligent Light Sensing
Equipped with a built-in light sensor, the light works together with the vibration sensor to initiate and stop automatically, conserving power. However, the strobe and constant light modes are manually controlled and are not influenced by the sensing element.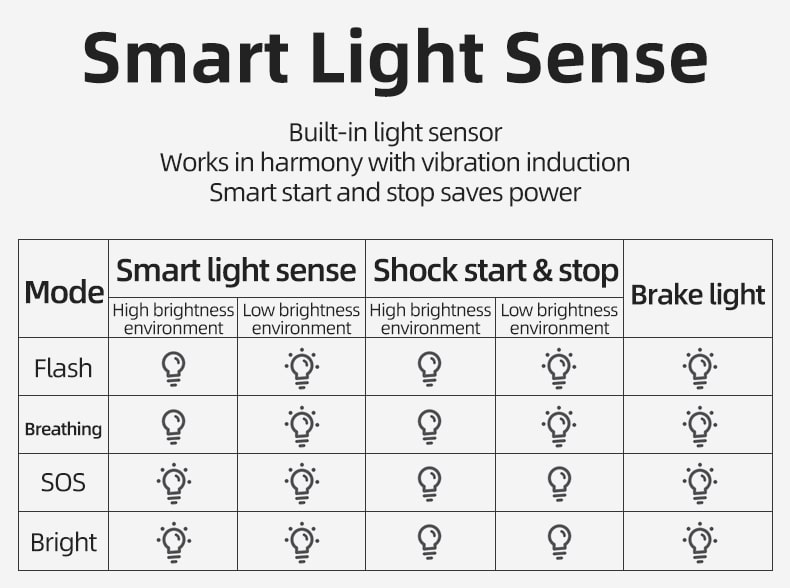 The SOS and Bright modes are not impacted by the sensing element and can be manually controlled.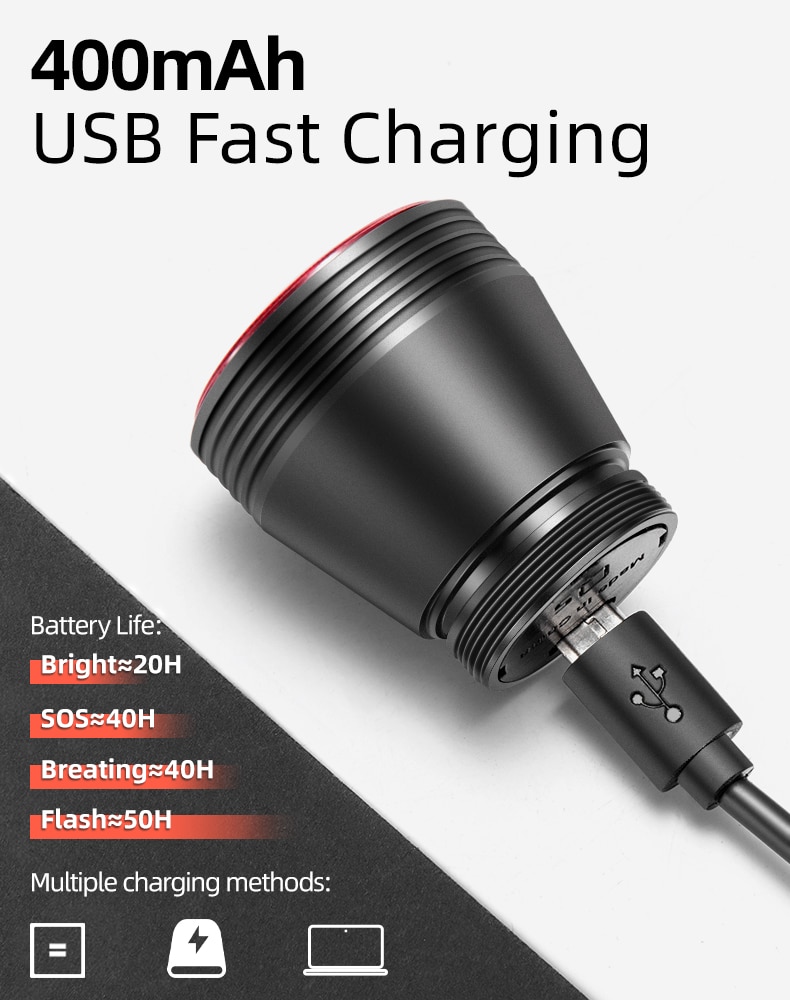 Battery Status Display
The indicator light flashes at intervals of 6 seconds, indicating the current battery level.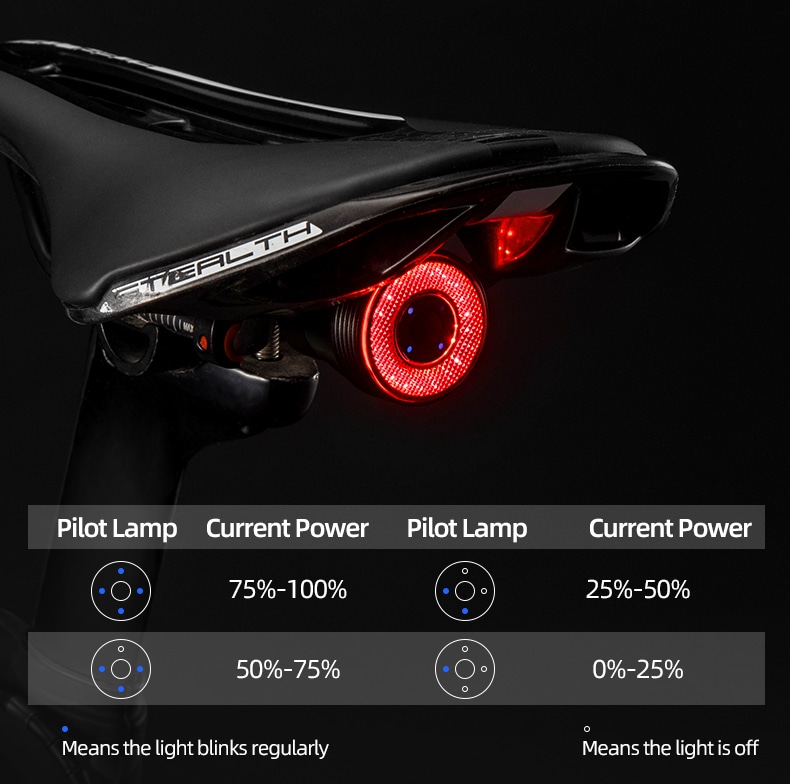 Flexibility in Mode Selection
Easily switch between flashing modes by clicking the switch, including Flashing, Breathing, SOS, and Shutdown modes.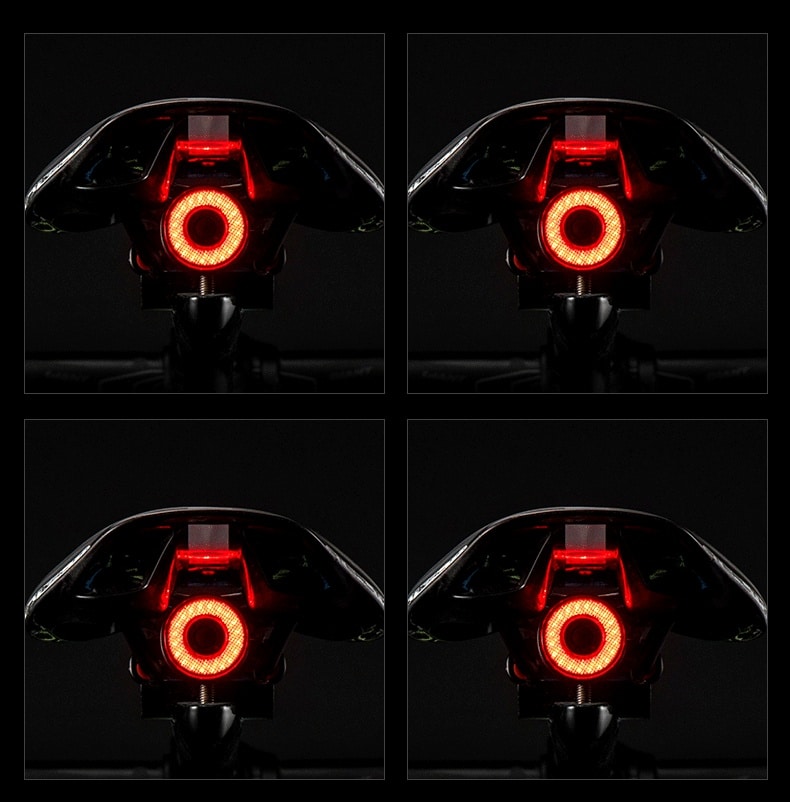 Waterproof Design with IPX6 Rating
Capable of withstanding harsh environments, this device has an IPX6 rating, indicating its ability to resist water exposure.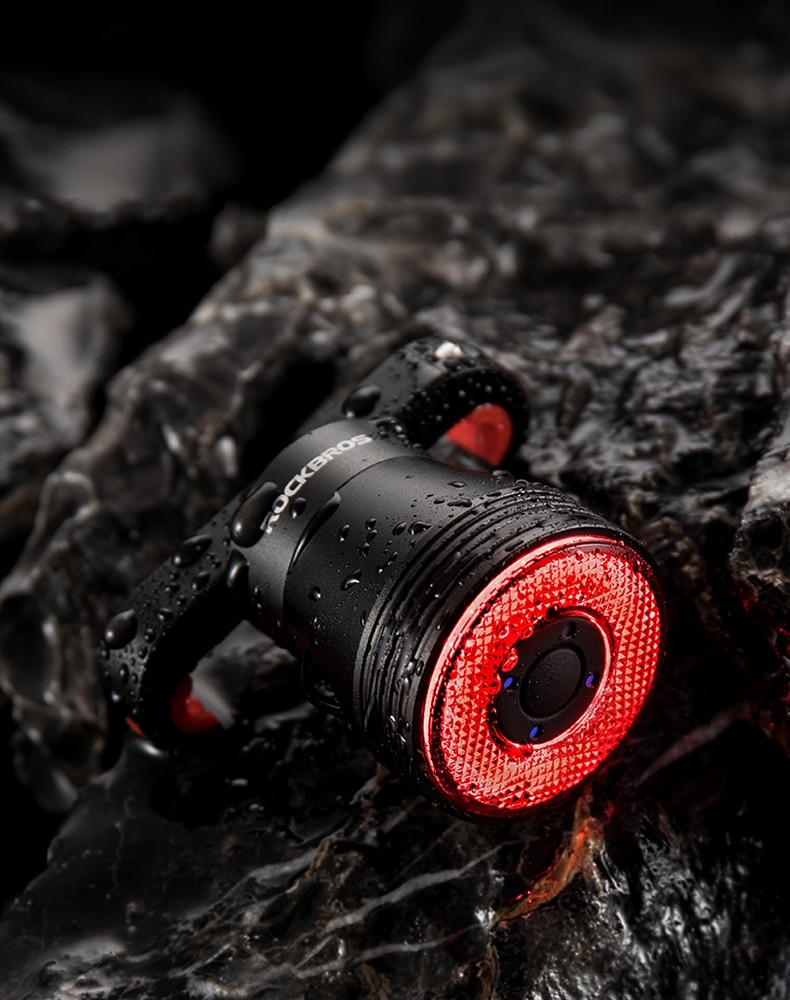 Compact & Lightweight
This device boasts a compact and lightweight design, making it easy to carry and transport.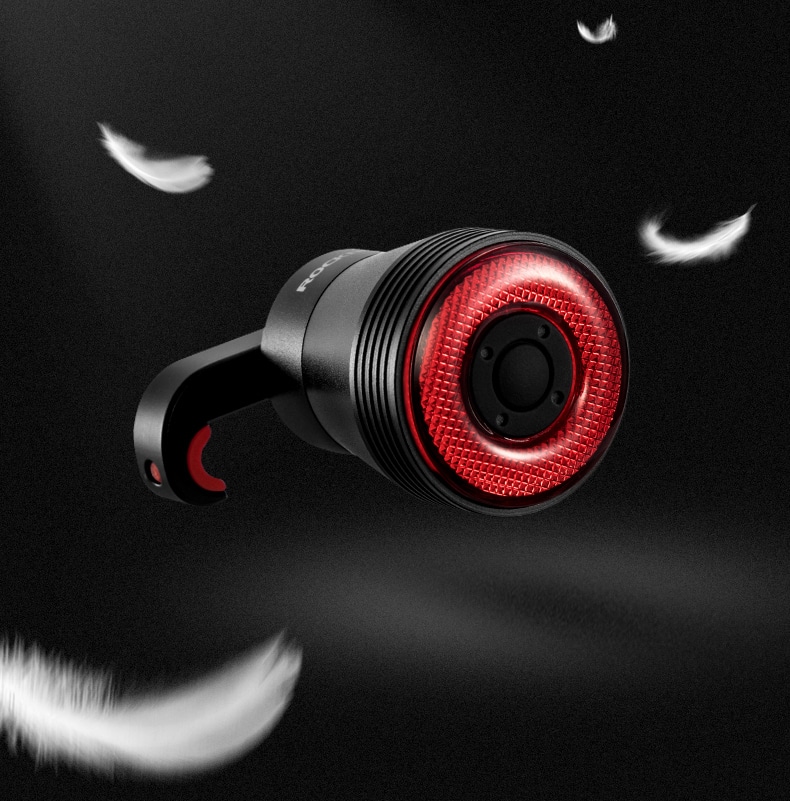 CNC Aluminum Alloy Shell
Constructed with a CNC aluminum alloy shell, this device is resistant to scratches and falls.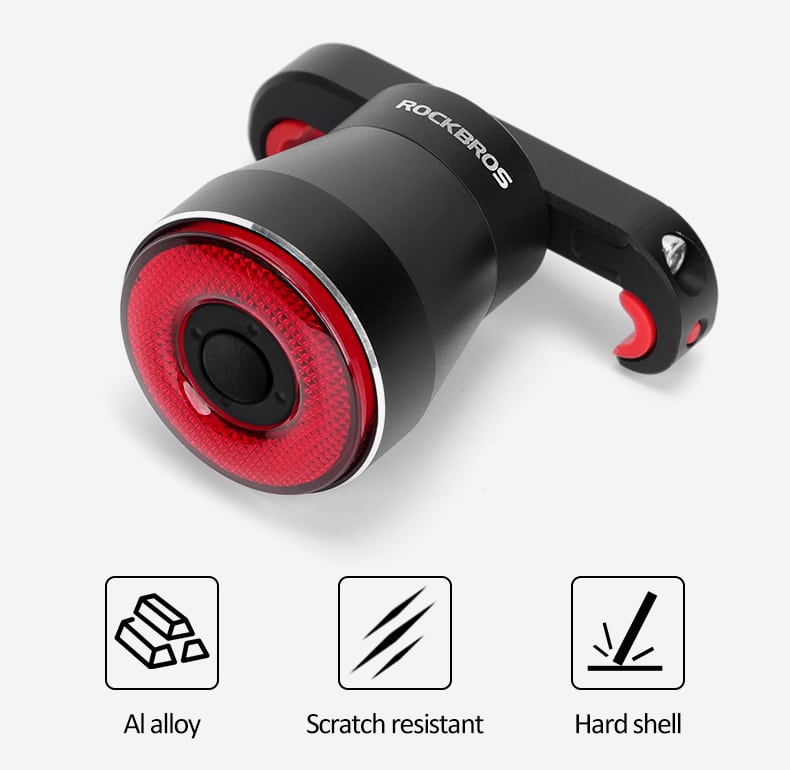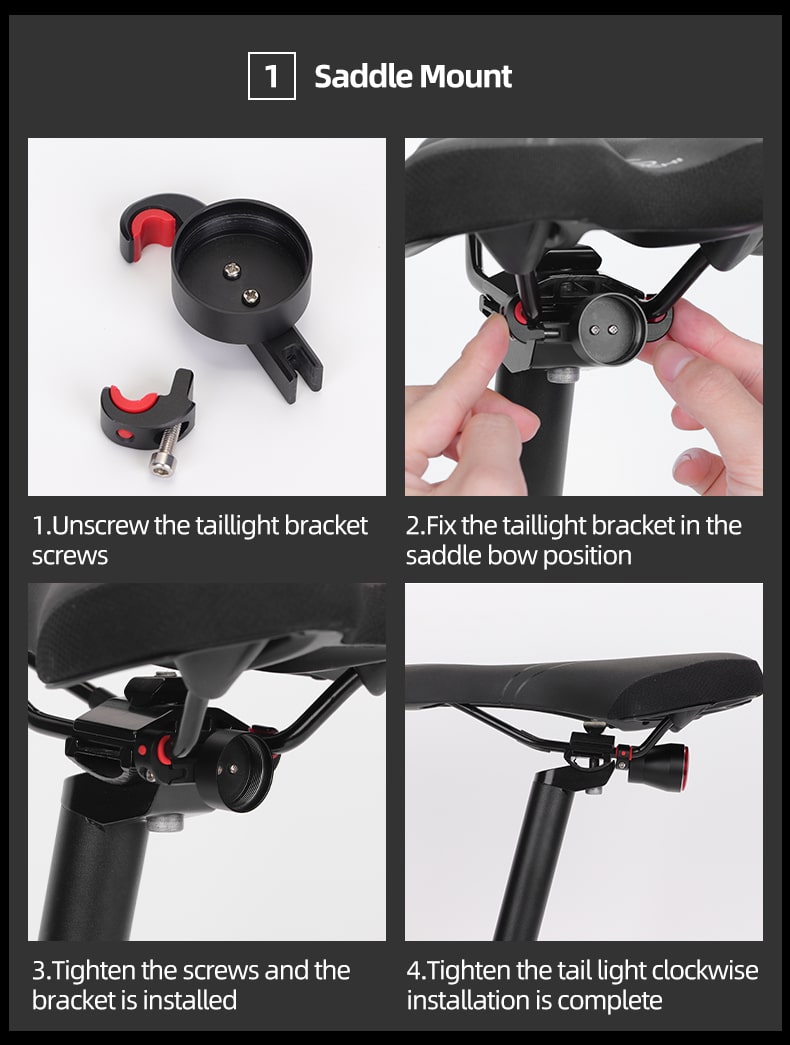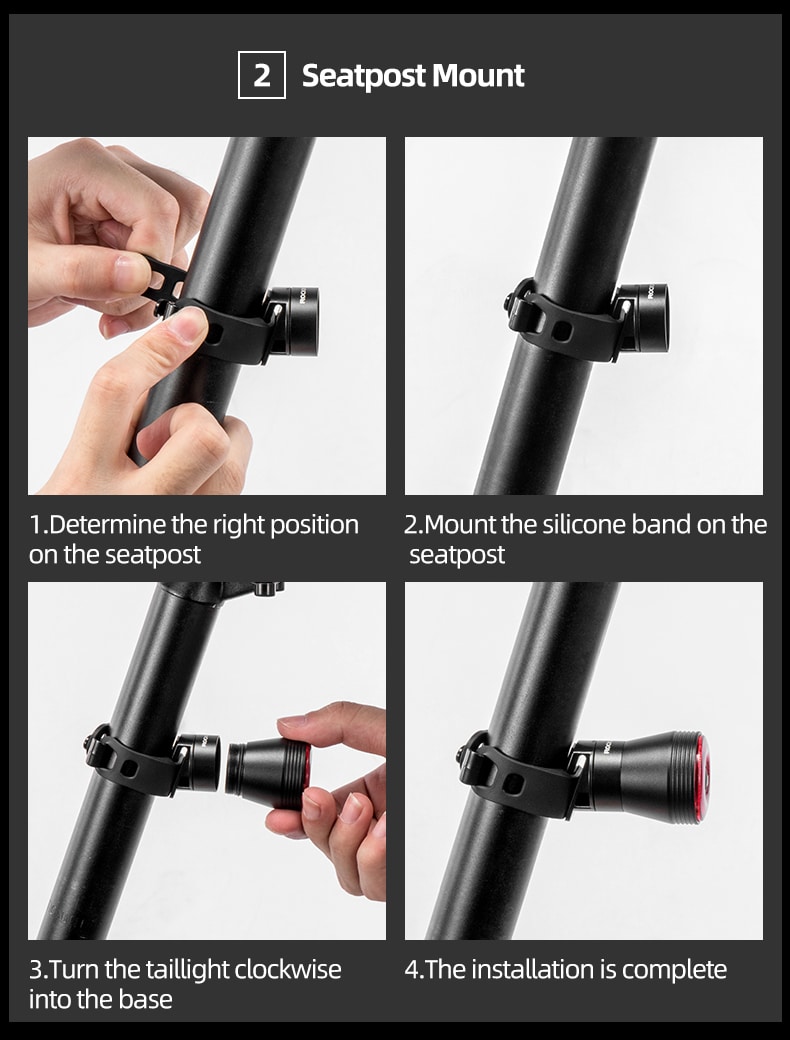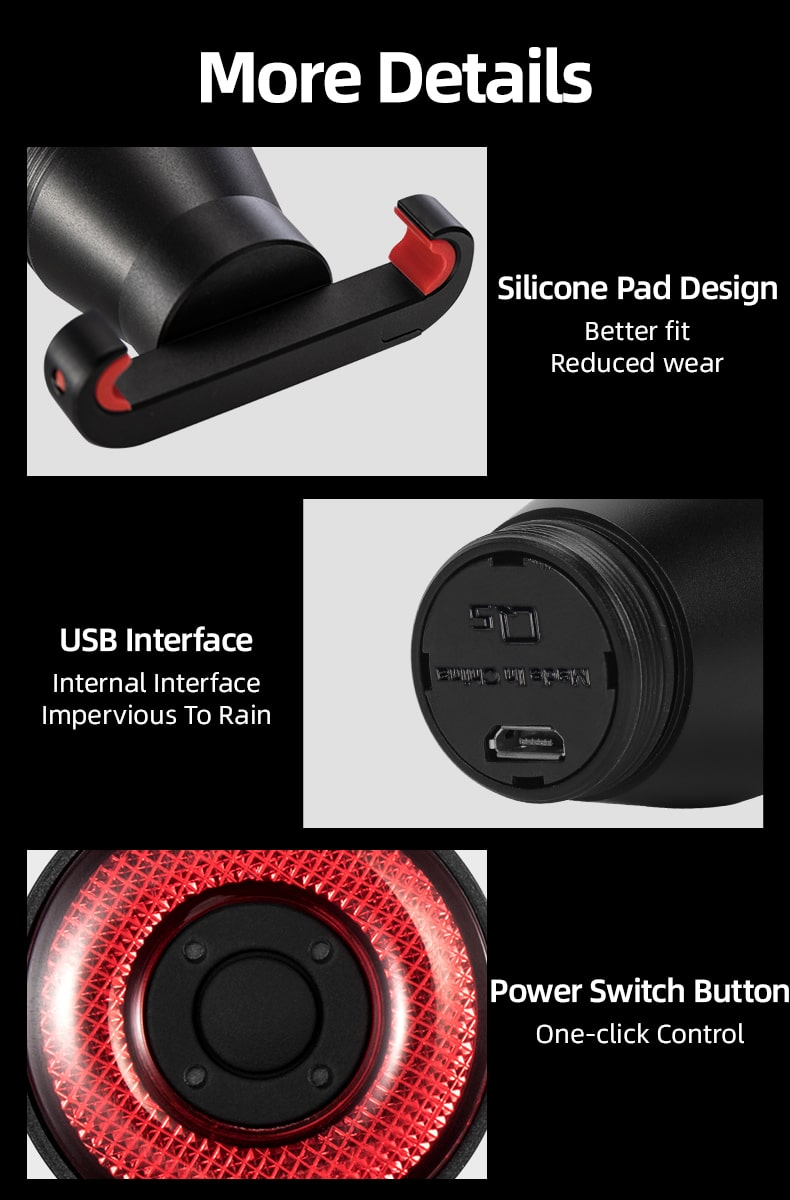 | | |
| --- | --- |
| Brand Name | ROCKBROS |
| Certification | CE |
| Model Number | TL907Q50 |
| Mounting Placement | Seatpost |
| Power Supply | Battery |
| Install method | Saddle / Seatpost |
| Weight | Aprox 55g (include holder) |
| Physical size | 40*34*34 mm |
| Output | 60 Lumen |
| Smart Sensor | Brake/Motion/Light Sensing |
| Battery | 400mAh Li-ion re-chargeable battery |
| Note | Please use the charging cable included in the package to charge |
| Name | Bicycle Smart Auto Brake Sensing Light IPx6 Waterproof LED Taillight |
Shipping & Delivery: all orders are shipped with tracking within 24 to 48 hours of you placing the order using USPS, Canada Post, or other carriers depending on your location and fastest available service. Free Worldwide Shipping
Typical delivery time frame is between 6 to 14 days. However, you may receive your items much earlier. All orders are shipped with a tracking number.
Satisfaction Guarantee: by purchasing our products you get a 2-year warranty and a 30-day free and easy returns right.