ROCKBROS Bike FRONT Light
$ 39,95 – $ 118,95
Free shipping worldwide
Satisfaction Guaranteed
No Hassle Refunds
Secure Payments
Illuminate your nighttime rides with the ROCKBROS Bike Light, the ultimate rainproof companion for your cycling adventures. With its powerful 200-1000 Lumen output and a beam range of 150-250 meters, you'll conquer dark paths with ease and confidence.
Expertly designed with an aluminum alloy body for unbeatable durability and heat dissipation, this versatile light doubles as a flashlight and boasts an IPX4-IPX6 waterproof rating. Type-C charging compatibility and a large-capacity battery ensure extended use.
Transform your cycling experience and enhance your visibility with the ROCKBROS Bike Light today.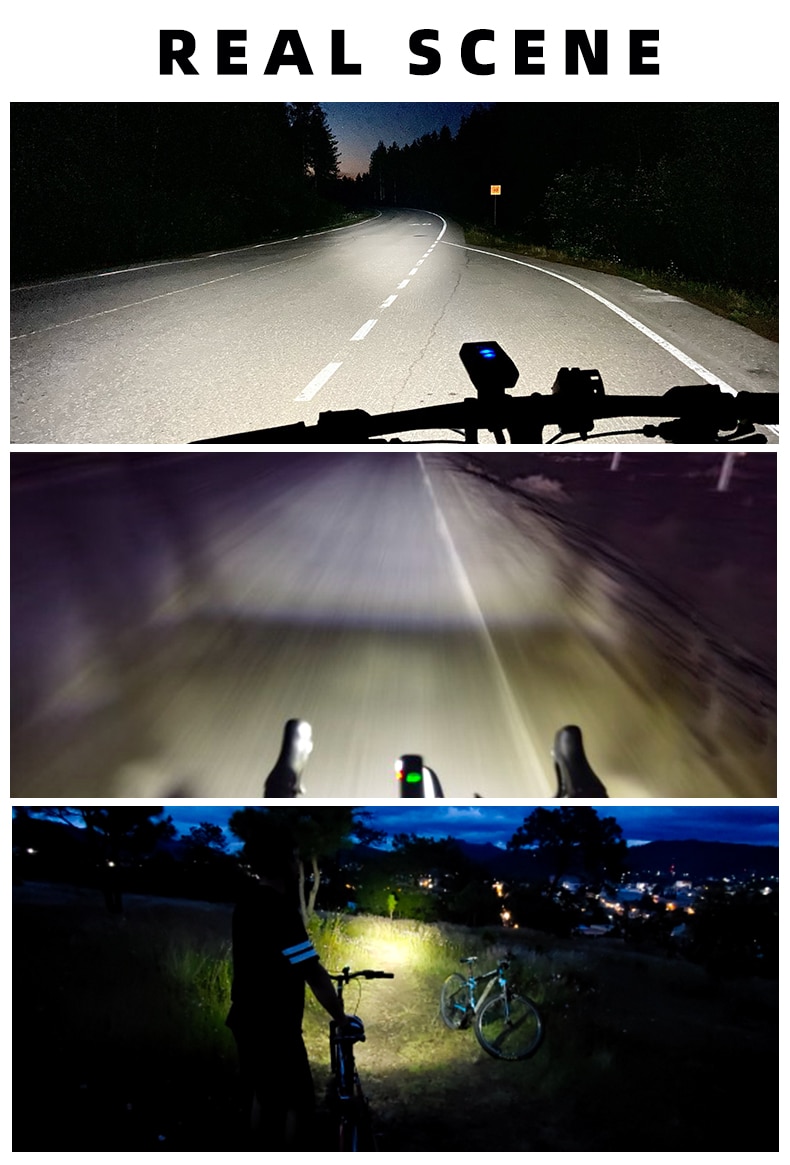 Key Features
Multi-functional: Functions as both a bicycle light and a flashlight
Excellent Heat Dissipation: Aluminum alloy construction ensures efficient heat management
Waterproof: IPX4-IPX6 waterproof, but avoid soaking the light in water
Durability: Anti-fall design and long-range capabilities
Charging Convenience: Type-C charging compatibility with multiple devices
Energy Efficiency: High brightness with low energy consumption
Easy Installation: Non-slip and simple to attach to your bike
Enhanced Safety: Cut-off line design to avoid harming the eyes of others
High Transmittance Acrylic: Provides strong impact resistance and evenly distributed lighting
Aluminum Shell: Anti-fall protection for added resilience
Wide Floodlight: Increases visibility for a safer ride
Product details
Model: YQ-QD/R1/RHL/BC
Material: High-quality Aluminum Alloy
Modes: 3-7 versatile modes, including Super Bright, High, Middle, Low, Flash, and Warning
Waterproof Ratings: IPX3-IPX6 for reliable rainproof performance
Lumen Output: 200-1000 Lumen for optimal brightness
Beam Range: Impressive 150-250 meter distance
Battery Capacity: 1800-4000 mAh built-in battery for long-lasting power
Charging Time: Quick 3-5 hour charge time
Surface Craft: Abrasion-resistant anodizing for added durability
Notes
Charging Note: Use the included charging cable to prevent damage to the lights.
USB Charging: YQ design offers USB charging, while other lights utilize Type-C charging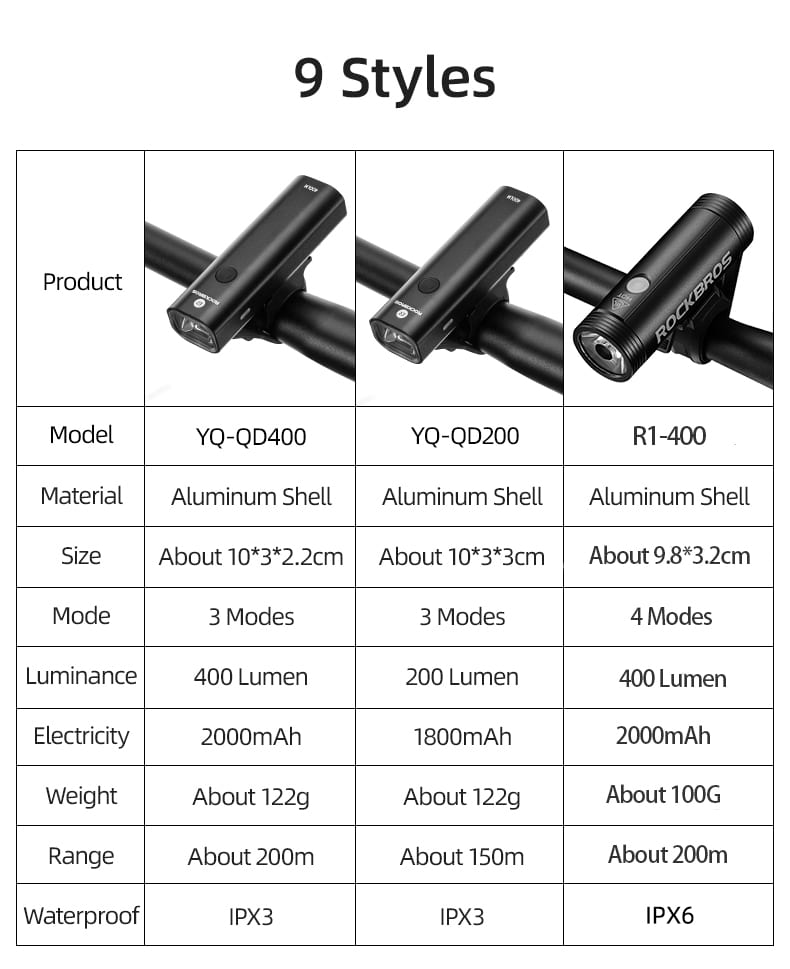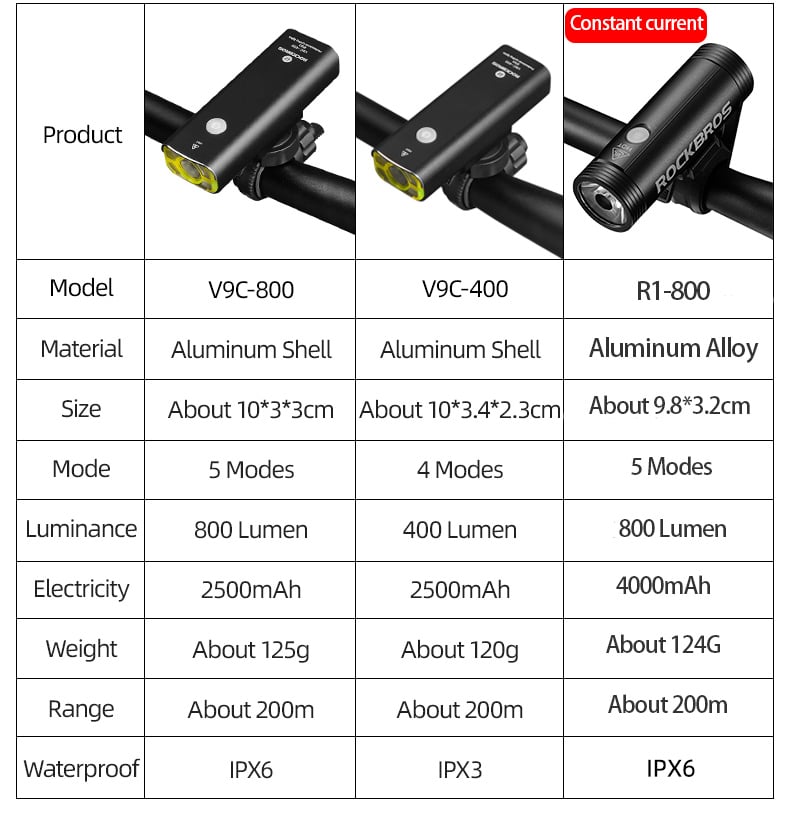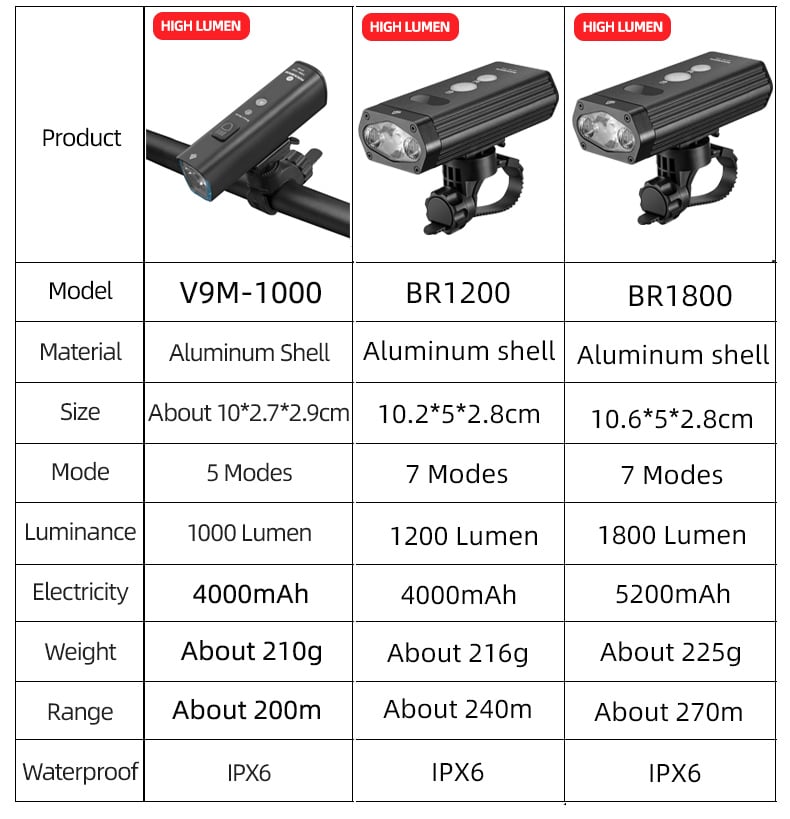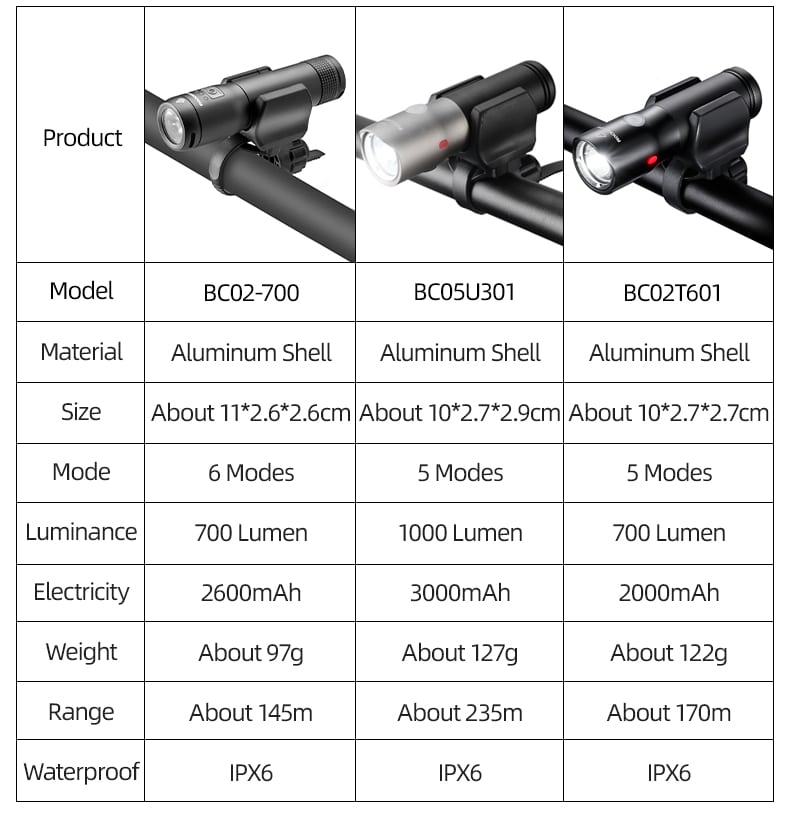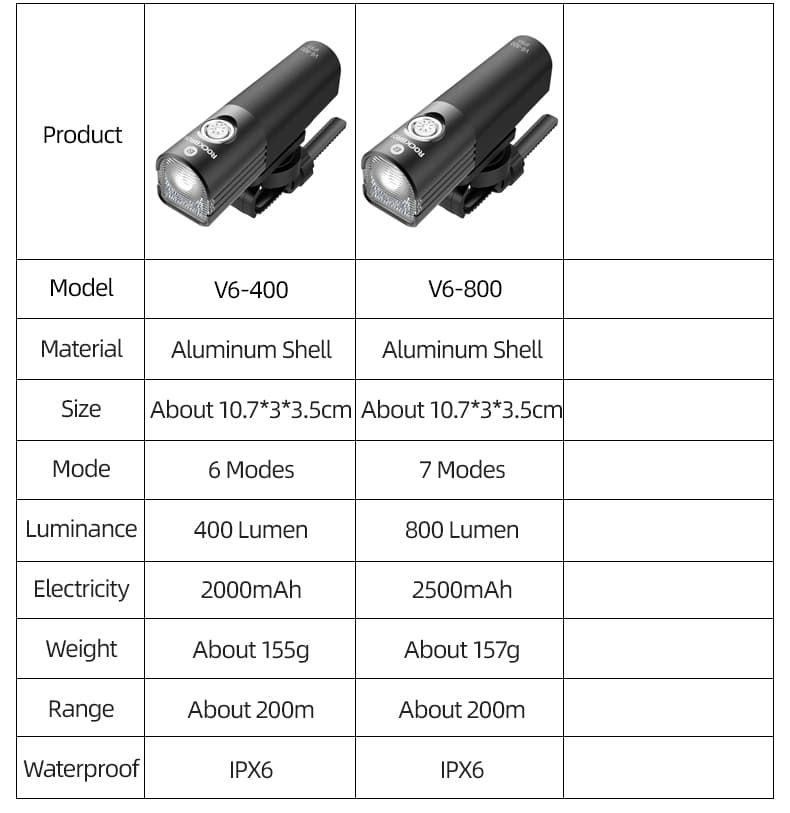 Experience an impressive 400 Lumens of brightness that surpasses your expectations.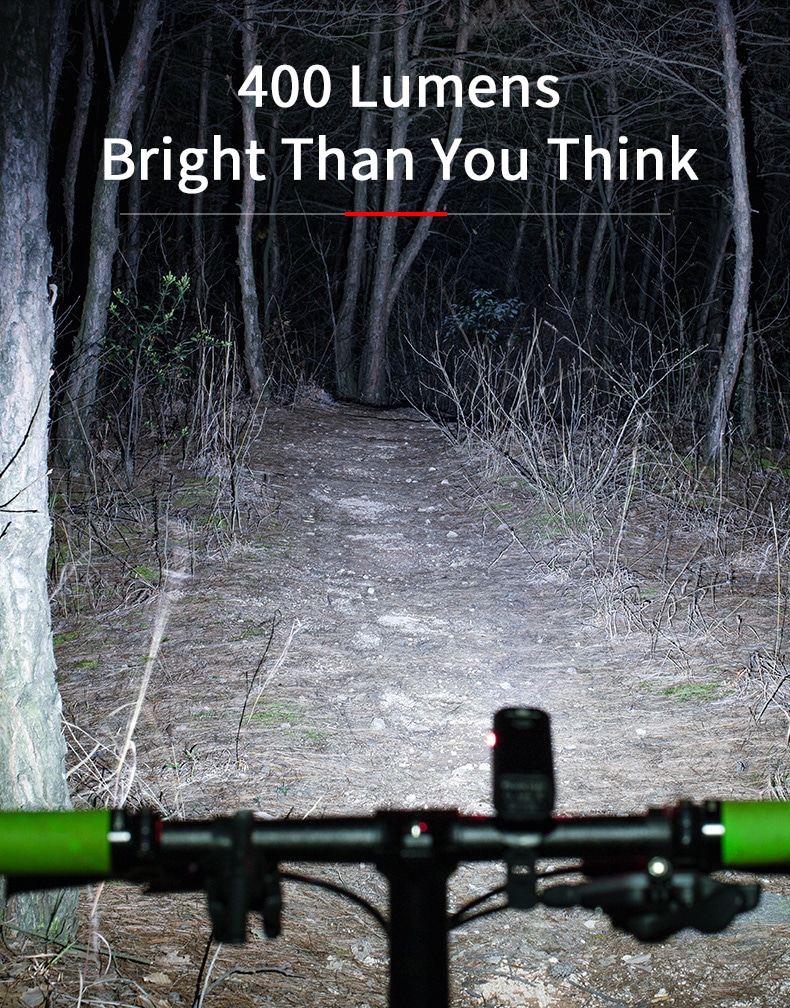 Cutt-OFF LINE DESIGN
The cut-off line design of the ROCKBROS Bike Light is specifically crafted to prevent any harm to the eyes and make cycling safer. The bike light ensures the safety of other riders and pedestrians by preventing the light from shining directly into their eyes.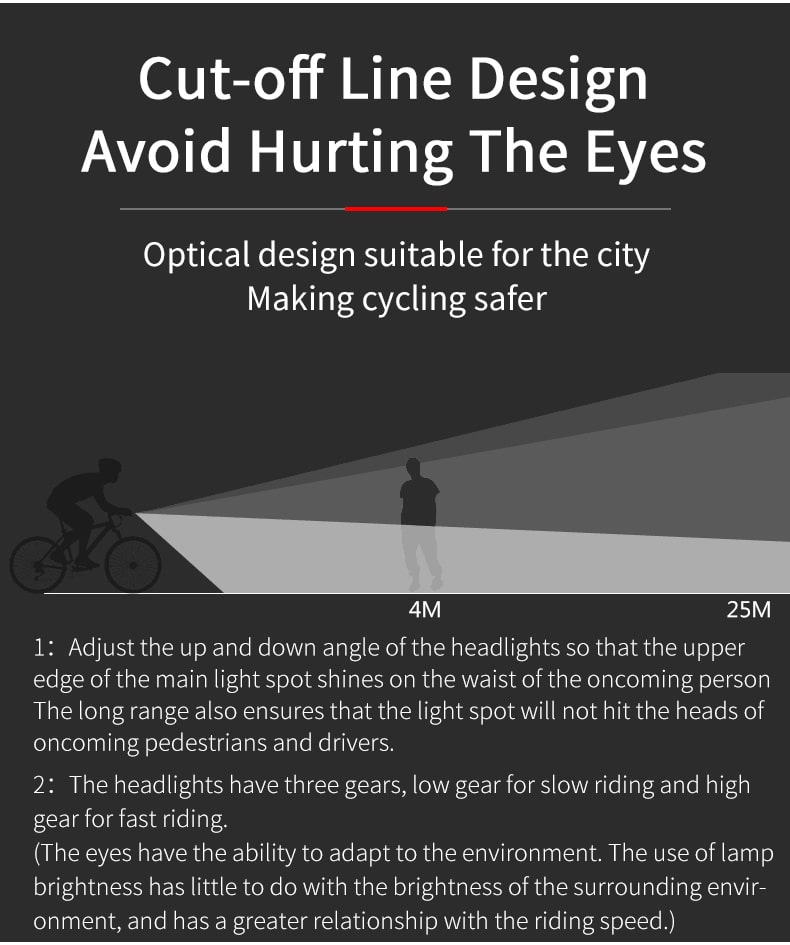 High Transmittance Acrylic
Crafted from high-transmittance acrylic, the ROCKBROS Bike Light boasts superior impact resistance while providing evenly distributed, clear lighting.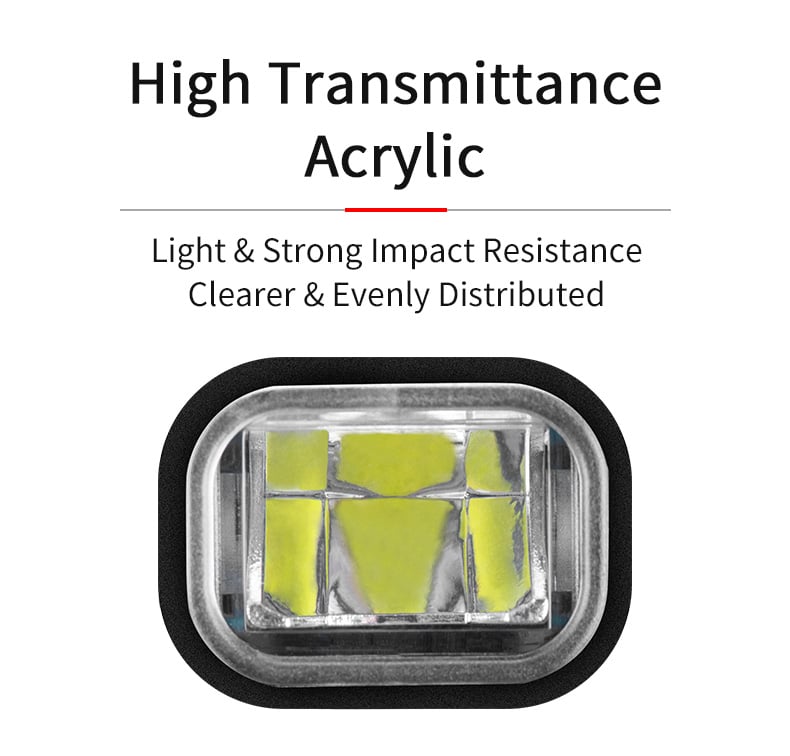 Aluminium Shell
The ROCKBROS Bike Light has an aluminum shell that provides added durability and anti-fall protection, making it ideal for rough riding conditions.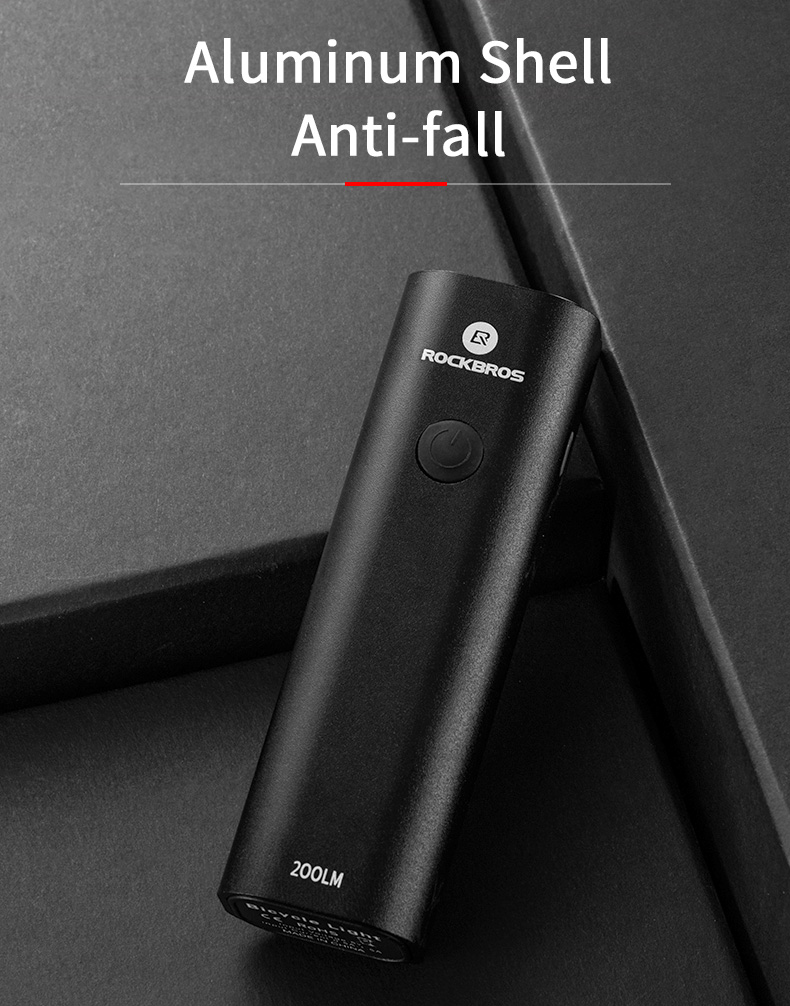 USB Charging
The ROCKBROS Bike Light features USB charging, providing convenient and flexible charging options for on-the-go use.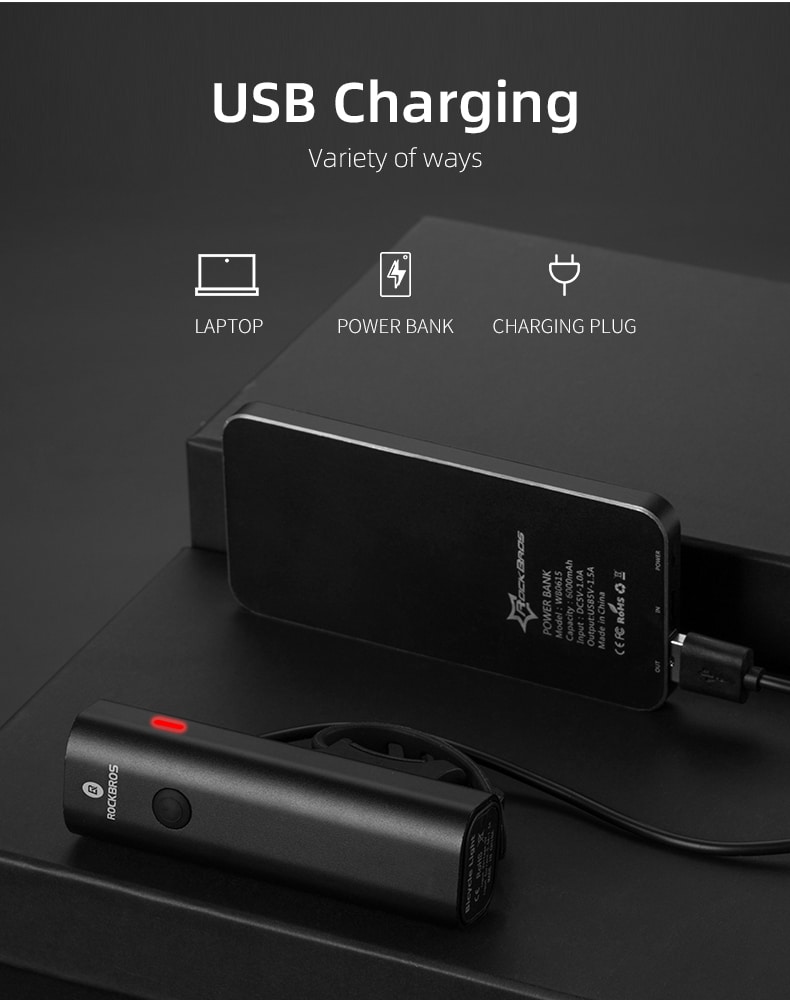 LARGE CAPACItY BATTERY
The ROCKBROS Bike Light is powered by a 2000mAh large-capacity battery, providing extended use and ensuring that you can keep riding with confidence.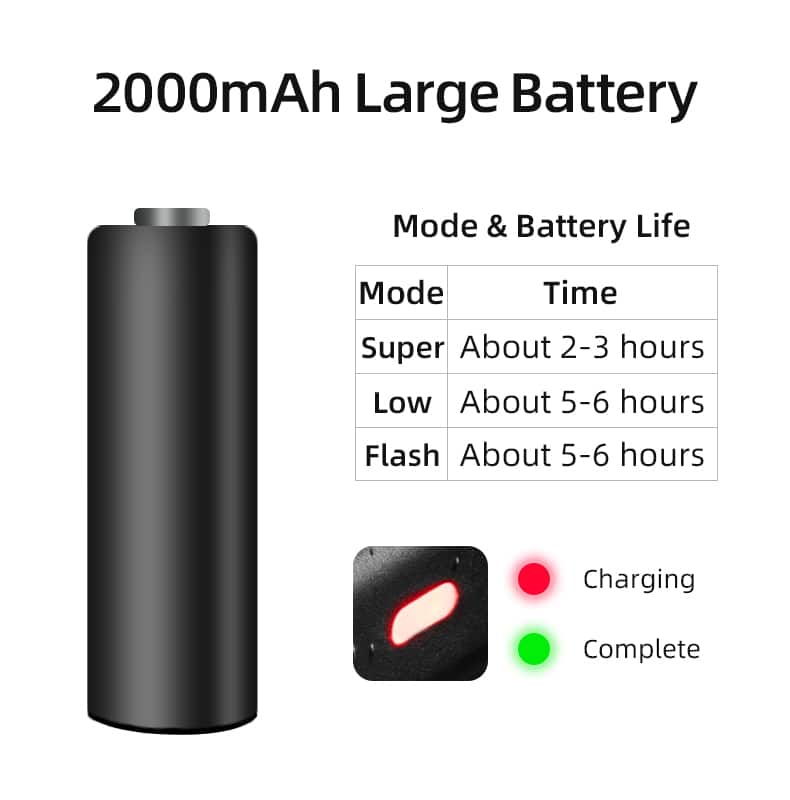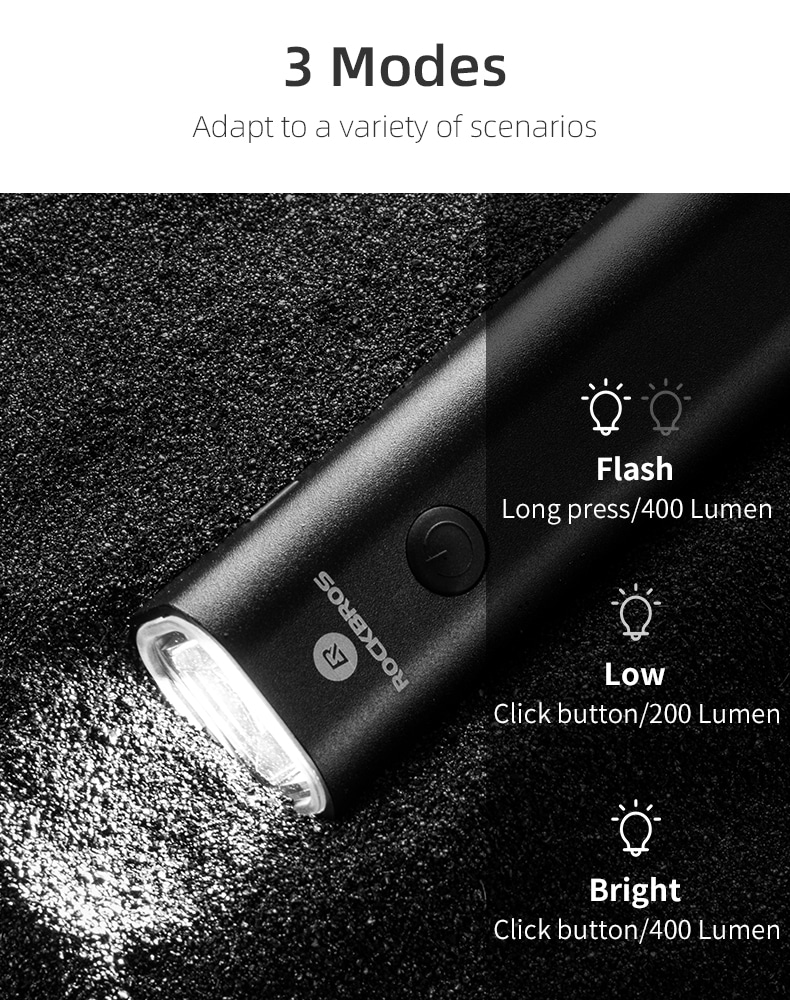 LARGE ILLUMINATED AREA
The ROCKBROS Bike Light covers a wide angle, increasing visibility and ensuring a safer ride in low-light conditions.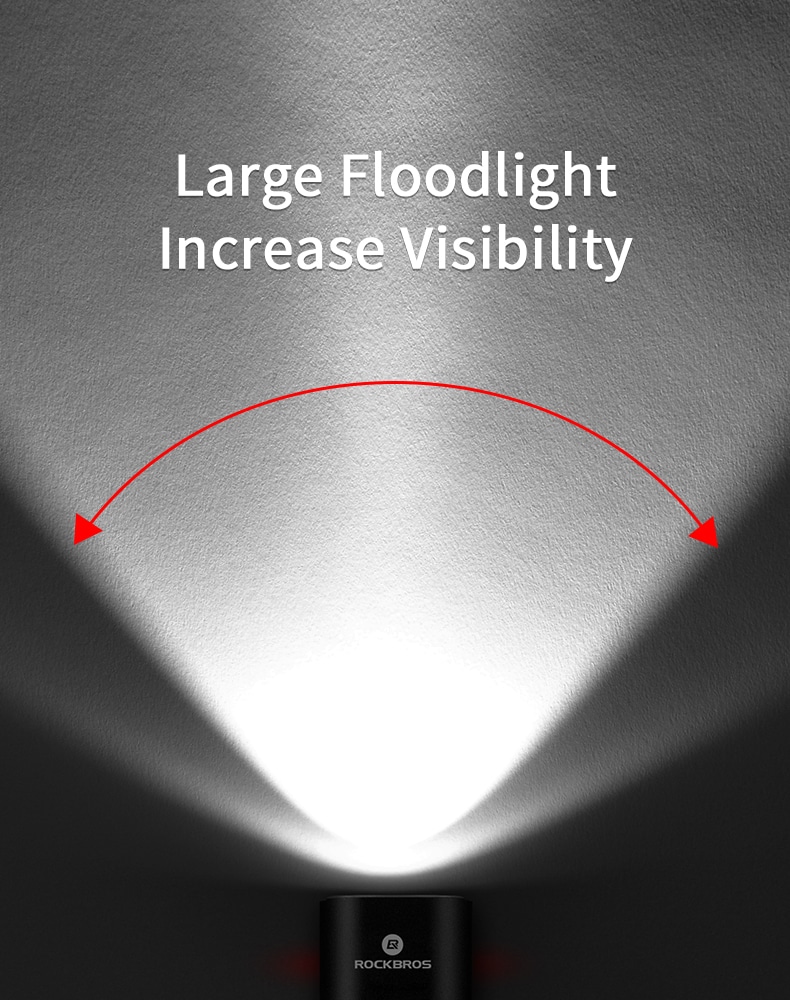 Waterproof-IPX3
The ROCKBROS Bike Light has a waterproof rating of IPX3, providing reliable protection against water splashes and light rain.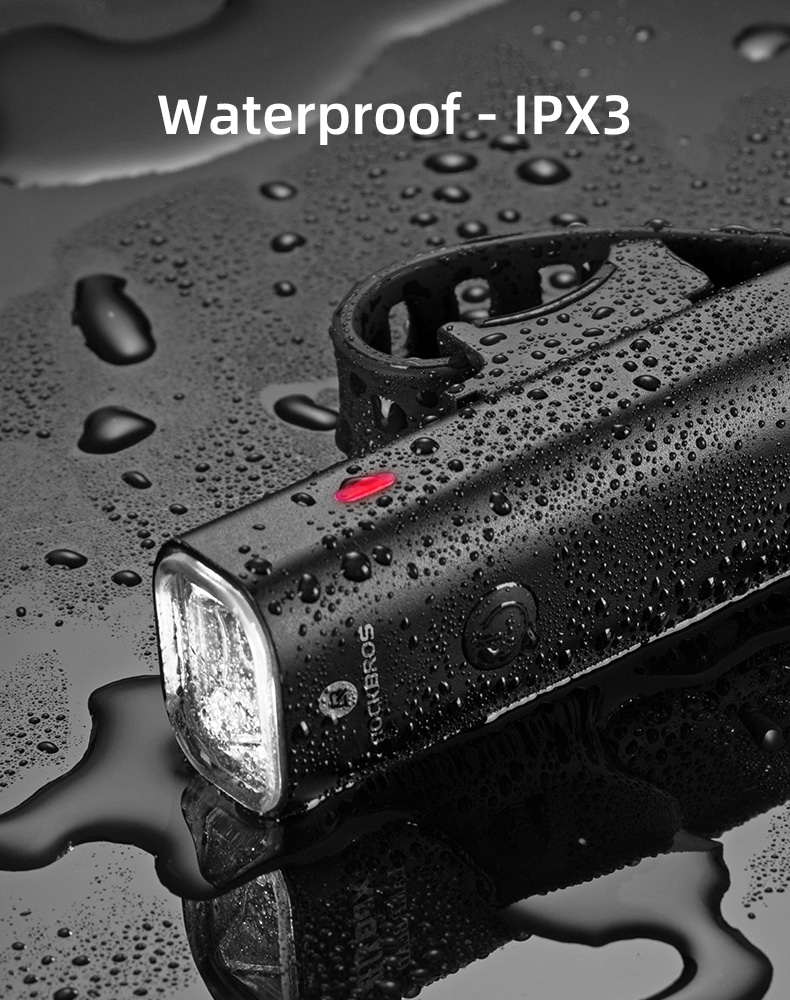 Convenience
With its small and convenient design, the ROCKBROS Bike Light is simple to use and install, making it a perfect companion for daily commutes and cycling adventures.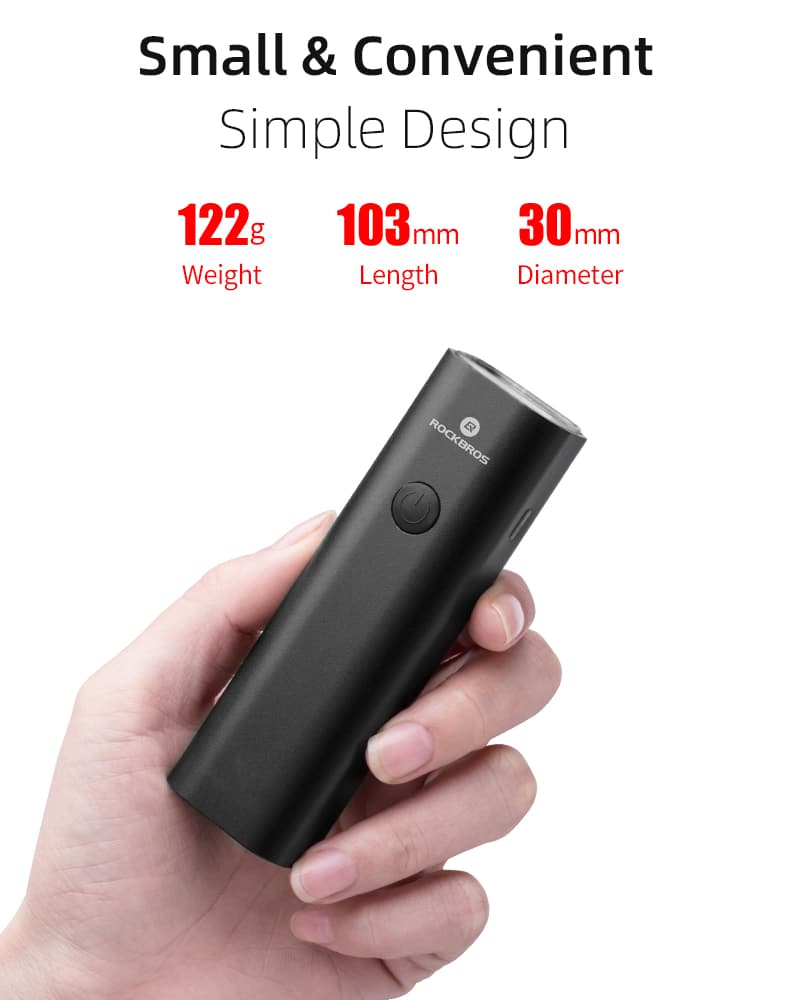 Snap-in-Bracket
The ROCKBROS Bike Light is designed with a snap-in bracket, ensuring easy and secure installation onto your bike.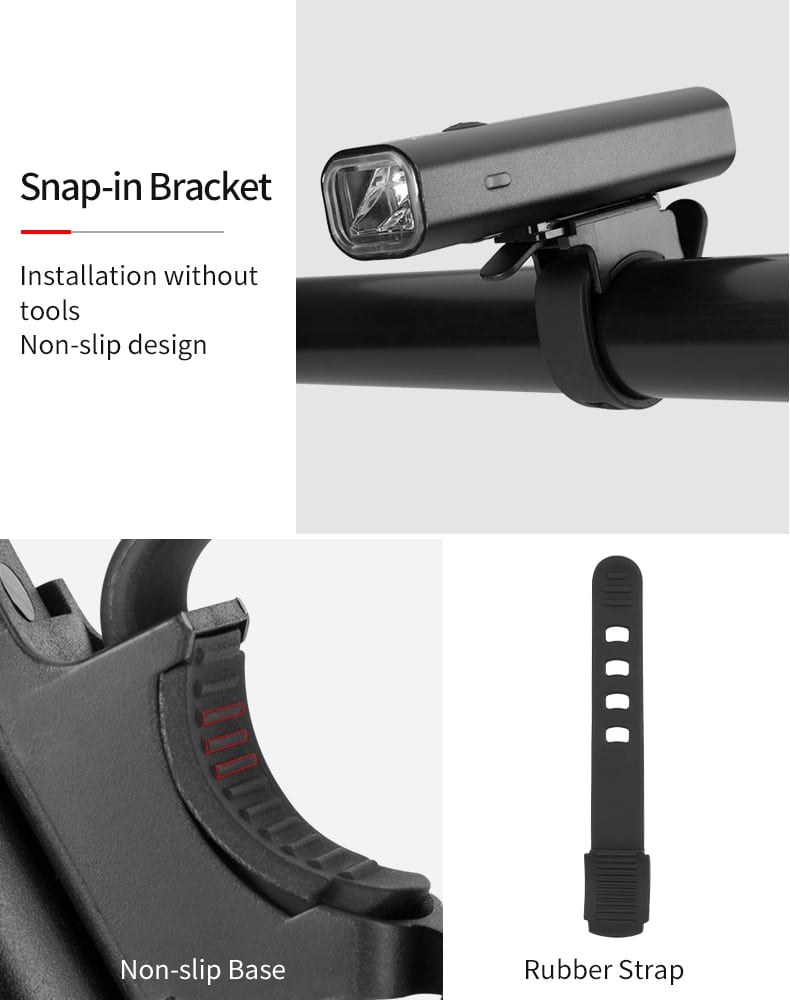 | | |
| --- | --- |
| Brand Name | ROCKBROS |
| Certification | CE |
| Model Number | YQ-QD400LM |
| Mounting Placement | Handlebar |
| Power Supply | Battery |
| Shell Material | Aluminum Alloy |
| Size | About 103*23*30mm |
| Weight | About 122 g |
| Lumen | 200/400 Lumen |
| Mode | Highlight/Normal Brightness/Flash |
| Battery | 1800/2000 mAh |
| Charging | USB Charge |
| Waterproof | IPX4 |
| Features 1 | Automatic power off after charging finish |
| Light Range 200Lumen | 200 Lumen Range is about 150 Meters |
| Light Range 400Lumen | 400 Lumen Range is about 200 Meters |
Shipping & Delivery: all orders are shipped with tracking within 24 to 48 hours of you placing the order using USPS, Canada Post, or other carriers depending on your location and fastest available service. Free Worldwide Shipping
Typical delivery time frame is between 6 to 14 days. However, you may receive your items much earlier. All orders are shipped with a tracking number.
Satisfaction Guarantee: by purchasing our products you get a 2-year warranty and a 30-day free and easy returns right.