UGREEN 2.5 HDD/SSD Protective Case
$ 47,95 – $ 115,95
Free shipping worldwide
Satisfaction Guaranteed
No Hassle Refunds
Secure Payments
The UGREEN 2.5 HDD/SSD Case is currently on sale for a limited time.
Protective Case for Hard Drives 2.5-Inch USB-C
Ideal for harnessing your old 2.5″HDD and SSD hard drive as an external hard drive, this enclosure offers an easy way for booting It's ideal for repurposing your old 2.5″' HDD or SSD hard drive as an external hard drive, this enclosure makes it simple to boot up old hard drives, upgrade PC storage, clone hard drives, recover and retrieve data from decommissioned computers, and extend storage. An excellent pick for digital enthusiasts, movie fans, and business persons.
USB 3.1 Gen 2 & UASP Enhanced
The Hard Drive Enclosure features the latest USB-C 3.1 Gen 2 port, which supports 10Gbps data transfer speed. (7+15)Pin SATA III supports a max 6Gbps data transfer. Enhanced with accelerated transmission protocols-UASP (USB Attached SCSI Protocol) and TRIM, the Hard Drive Enclosure is equipped with the latest USB-C 3.1 Gen 2 port, which supports data transfer speeds of up to 10Gbps. The data transmission speed of up to 6Gbps is possible with (7+15) Pin SATA III technology.
The hard drive enclosure is enhanced with quicker transmission protocols such as UASP (USB Attached SCSI Protocol) and TRIM, allowing you to fully use SSD drives to achieve up to 70% speed advantage over traditional HDD drives. The fastest speed we tested was up to 520MB/s.
High Performance
* Advanced Chipset: The prominent ASM235CM chip not just ensures stable and fast data transfer but significantly improves the security of your files.
* Smart Auto Sleep Mode: Features 3-min Auto Sleep Mode to let your HDD or SSD stop spinning to have a rest. Good to extend the lifespan of the hard drives.
* LED Indicate: LED indicator lets you learn the working status of this External Hard Drive Enclosure easily.
Universal Compatibility
* USB-A Male Connection: Laptops running Windows 10/8.1/8/7/XP/Vista, Mac OS, Linux or Chrome OS; Game consoles like PS4, PS4 Pro, PS3, Xbox one, Xbox 360; Raspberry Pi; TV; Router, etc.
*SATA 15+7 Pin Female Connection: 2.5″ SATA III / II / I HDD and SSD of capacity up to 10TB, compatible with Seagate Barracuda HDD 2.5″, Samsung 860 EVO/850 EVO SATA III SSD, WD Blue/Green 2.5 SATA SSD, SanDisk SSD PLUS, SanDisk Ultra 3D SSD, Crucial BX500/MX500/MX300, PNY CS900, TOSHIBA TR200/Q300, DREVO X1, Gigabyte, YUCUN 2.5″ SSD, etc.
>>Simple to Use, Full Protection
* Plug and play, no driver needed.
* Easy assembly in seconds, tool-free, no need for extra power supply for 2.5″ SATA HDD/SSD.
* Equipped soft EVA foams inside, protecting your hard disks from improper shaking and scratches.
* Elegant housing with shockproof ABS material makes the case a beautiful addition to your desk.
>>Warm Reminder
* For UASP, make sure the device, OS and controller have the UASP function enabled.
* Always safely remove your disc before unplugging this product.
* For the 7mm hard disk, it is necessary to add the additional EVA pad between the hard drive and this box.
* Win XP 32-bit system does not support 2TB above HDD.
6Gbps Hard Drive Case 2.5
520MB awesome speed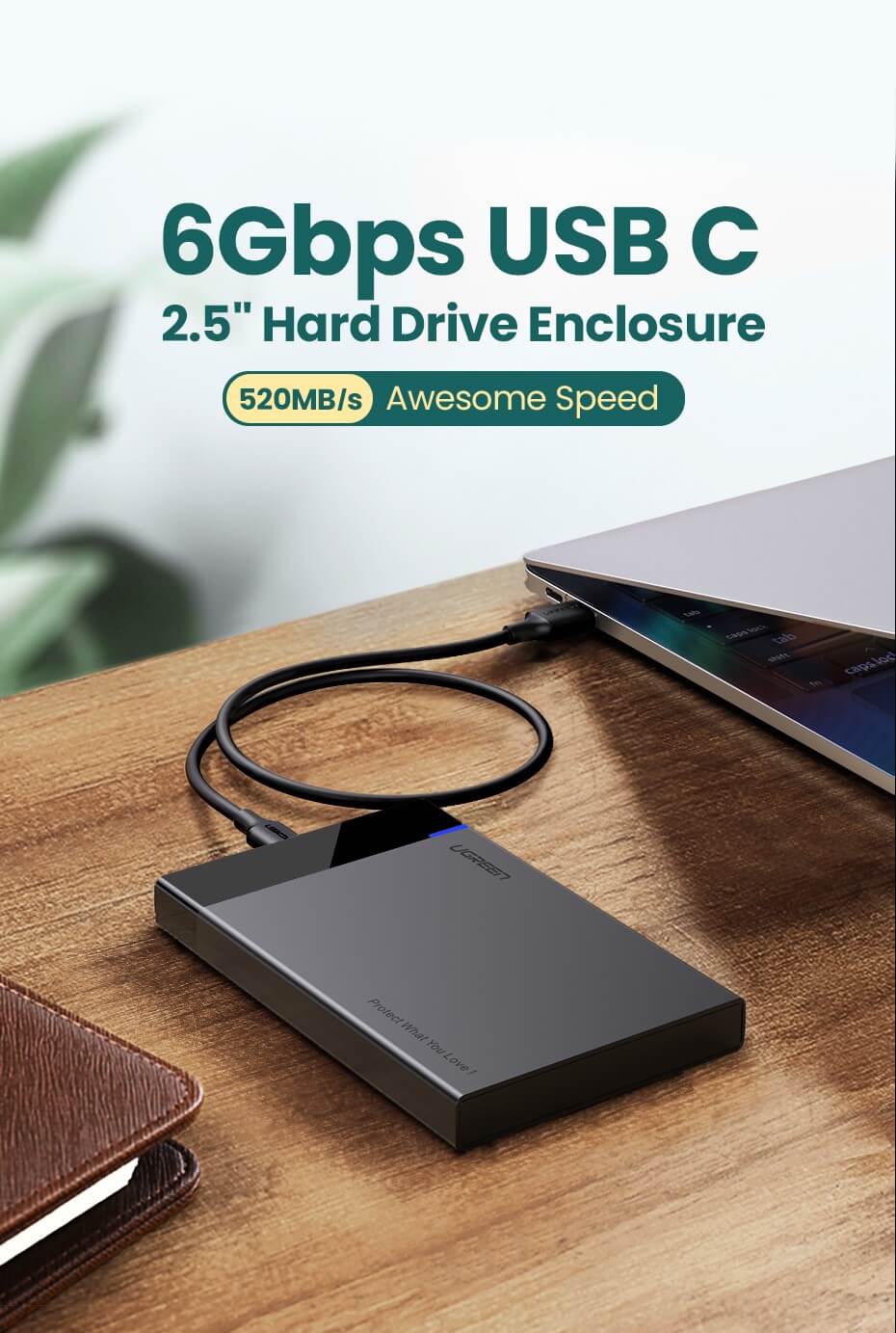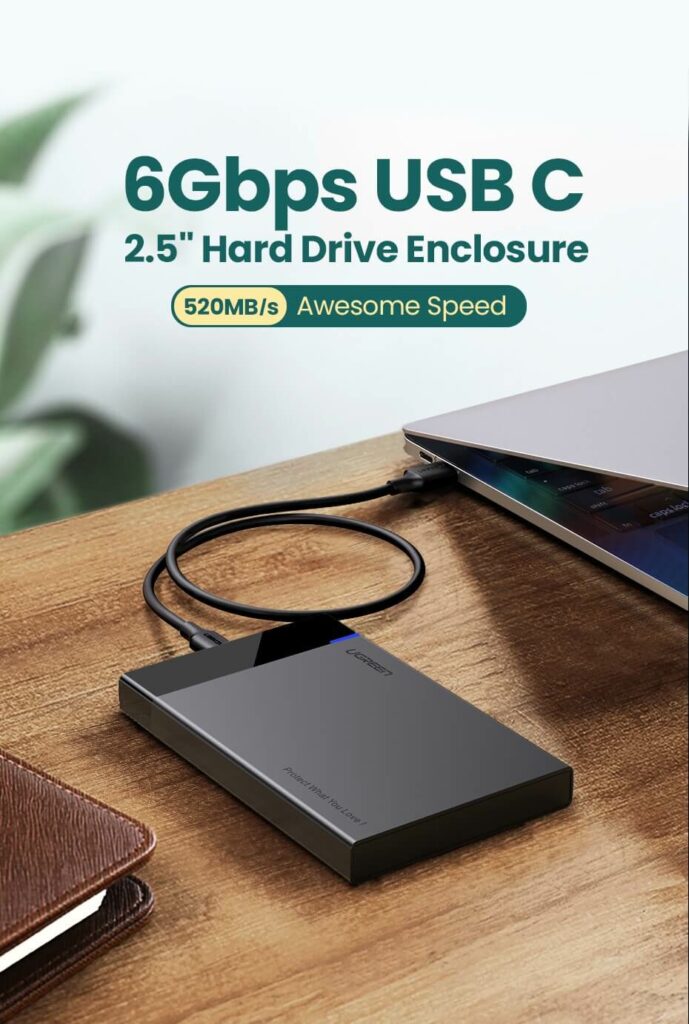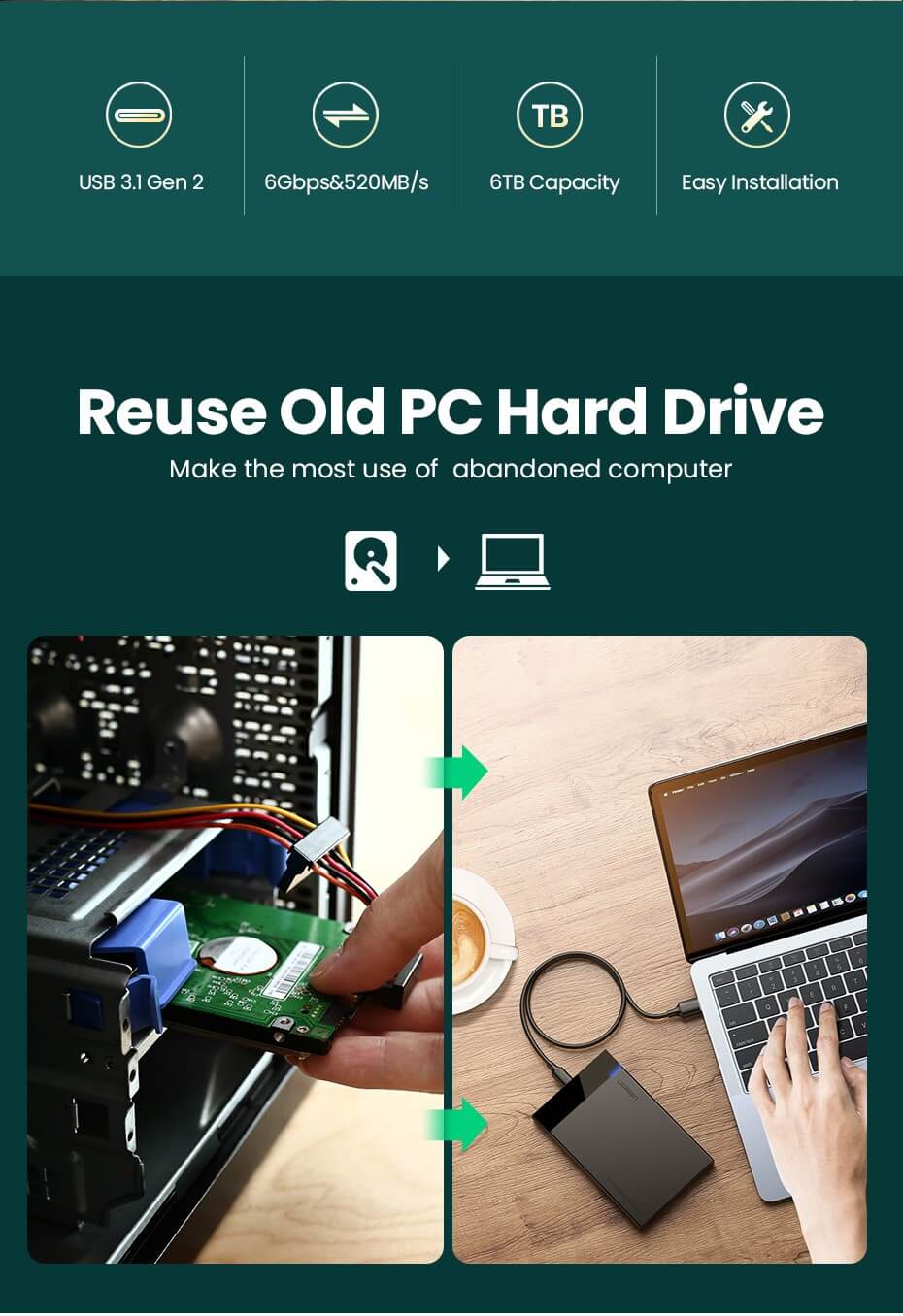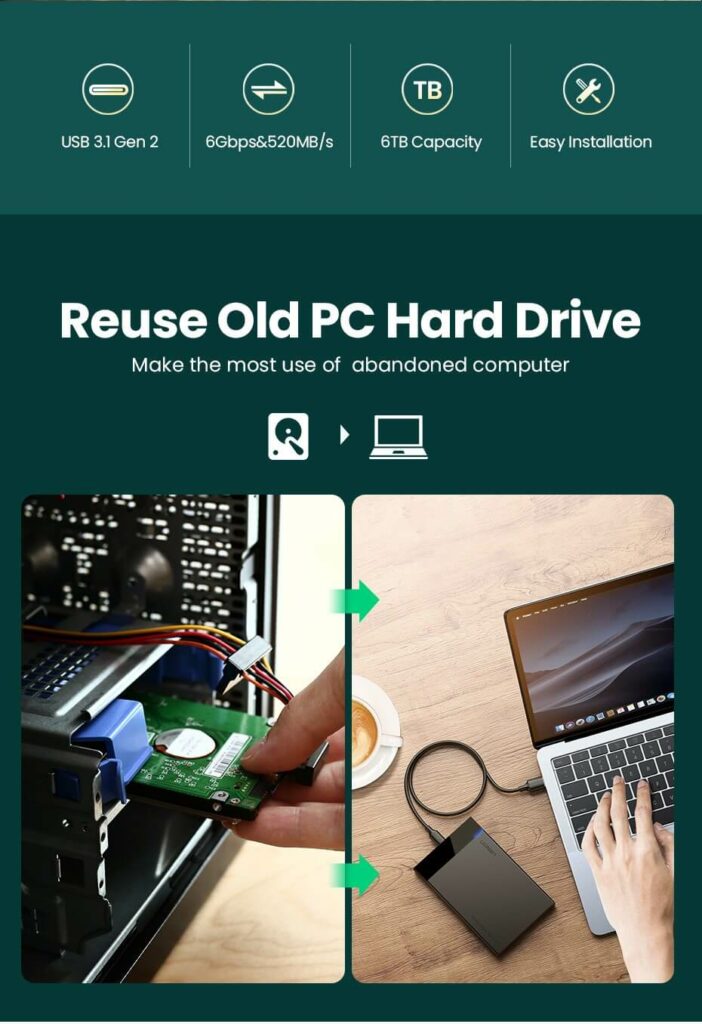 Wide Application
Portable & robust backup and storage method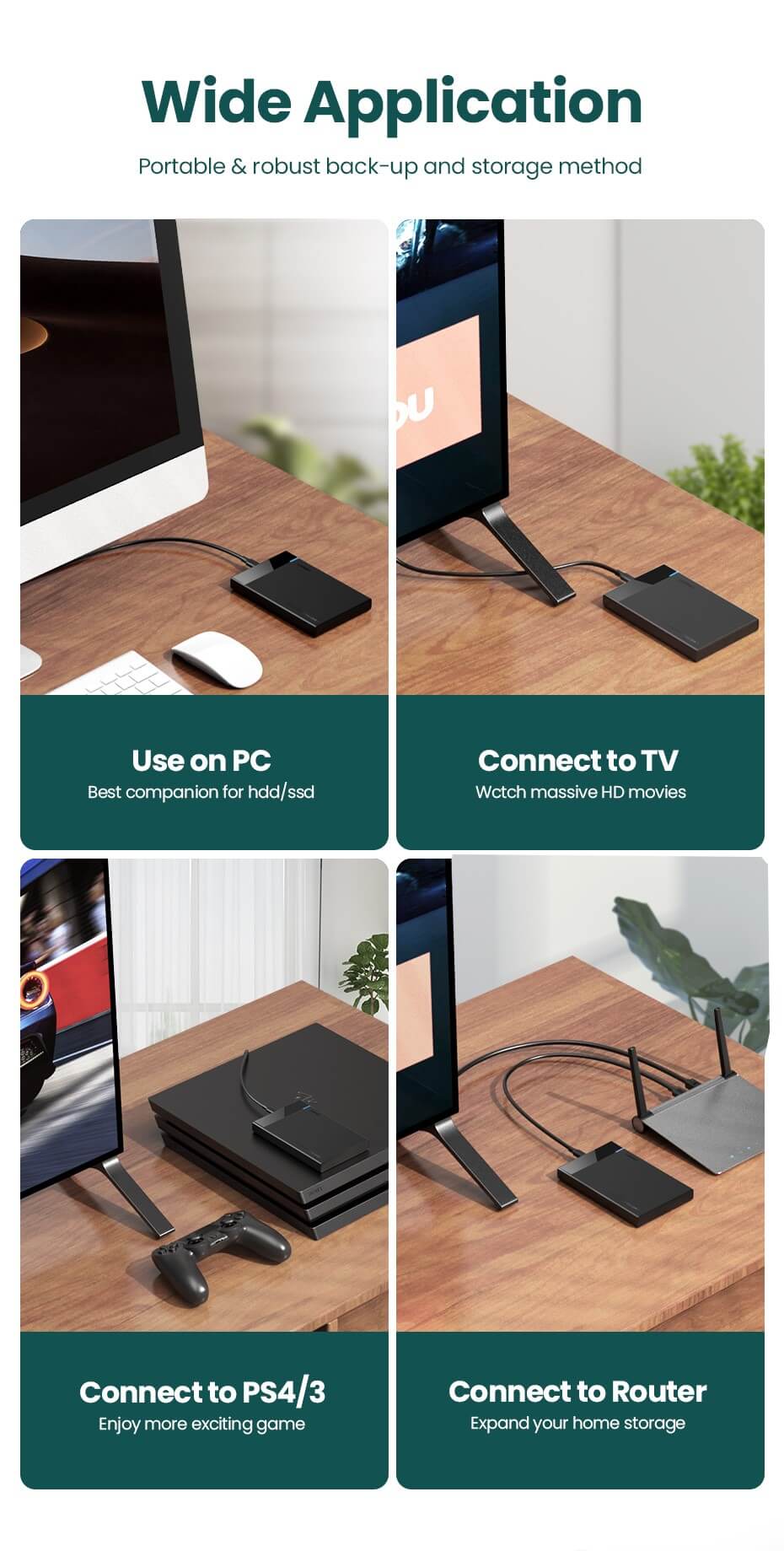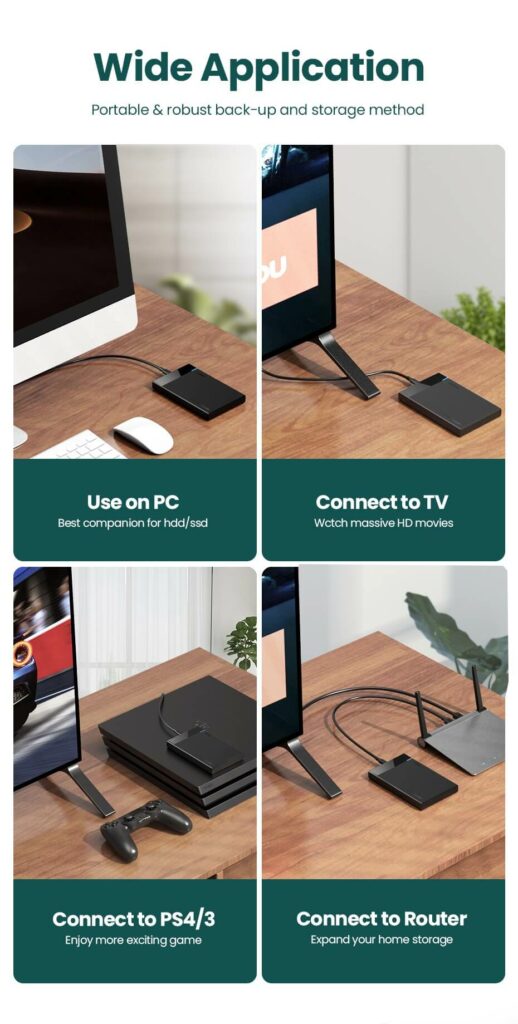 Transfer 1GB File in 2s
Tested Data with USB 3.1 Gen 2 Case + SAMSUNG 850EVO SSD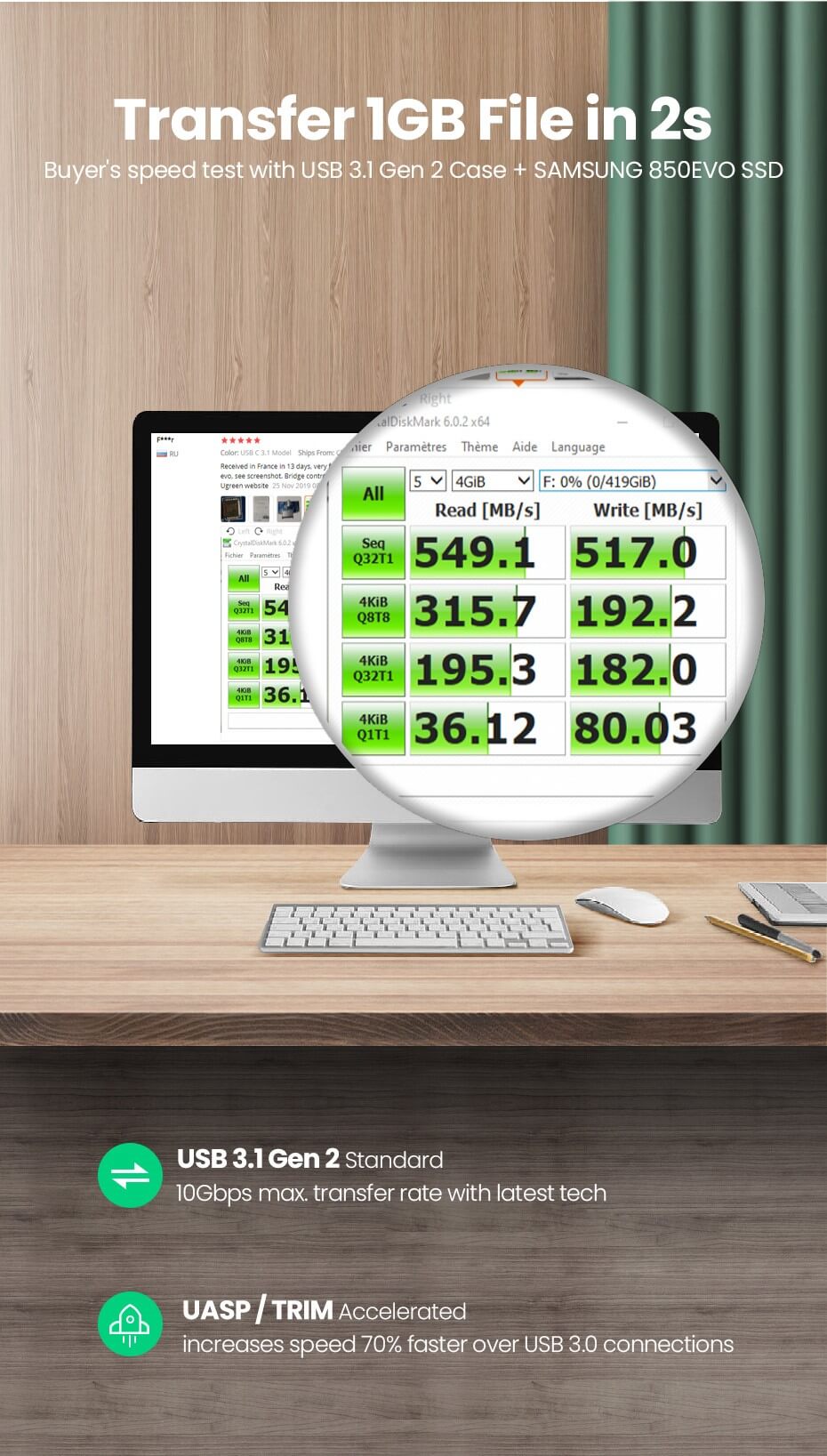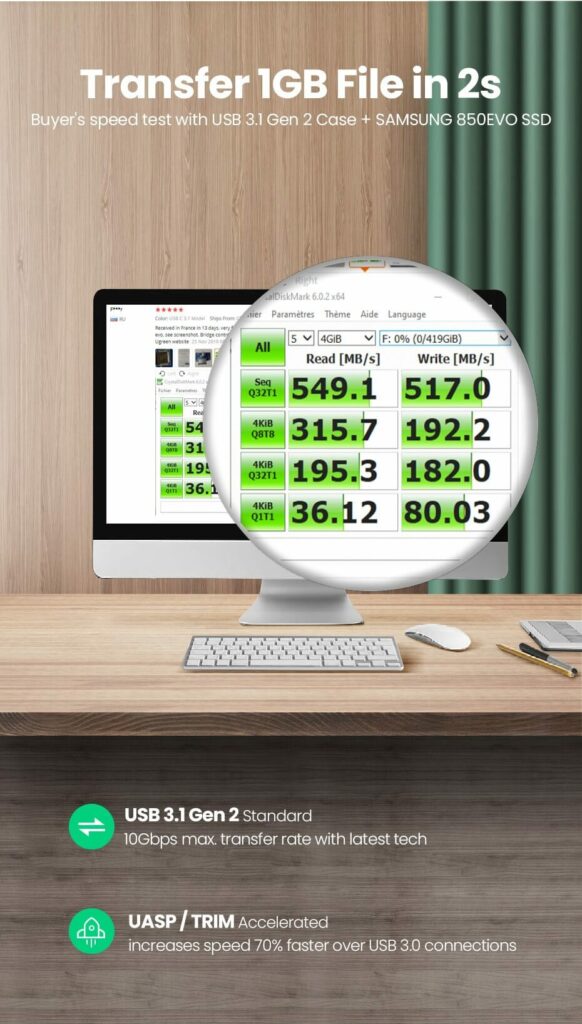 Universal Compatibility
Plug and play for multi-operation system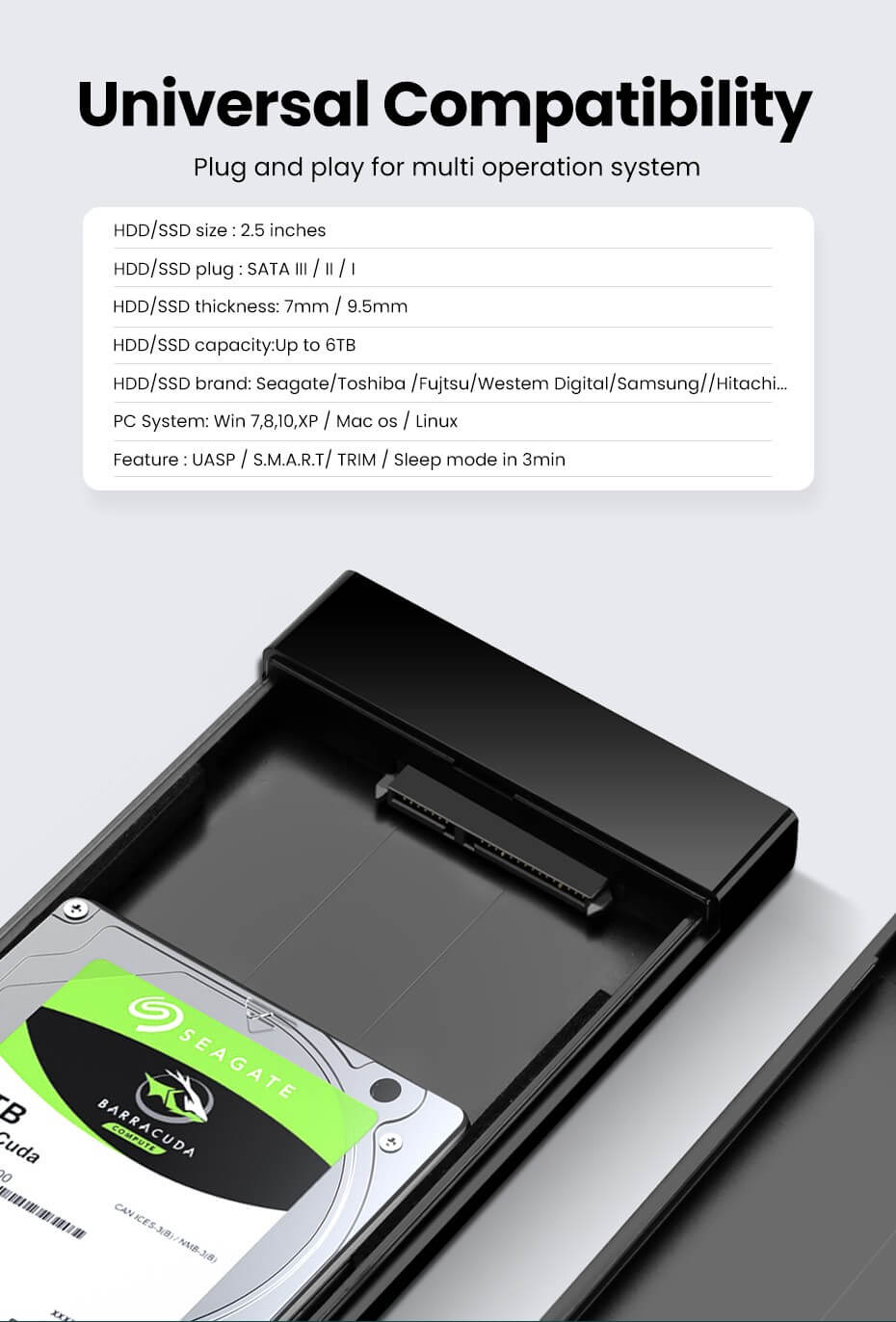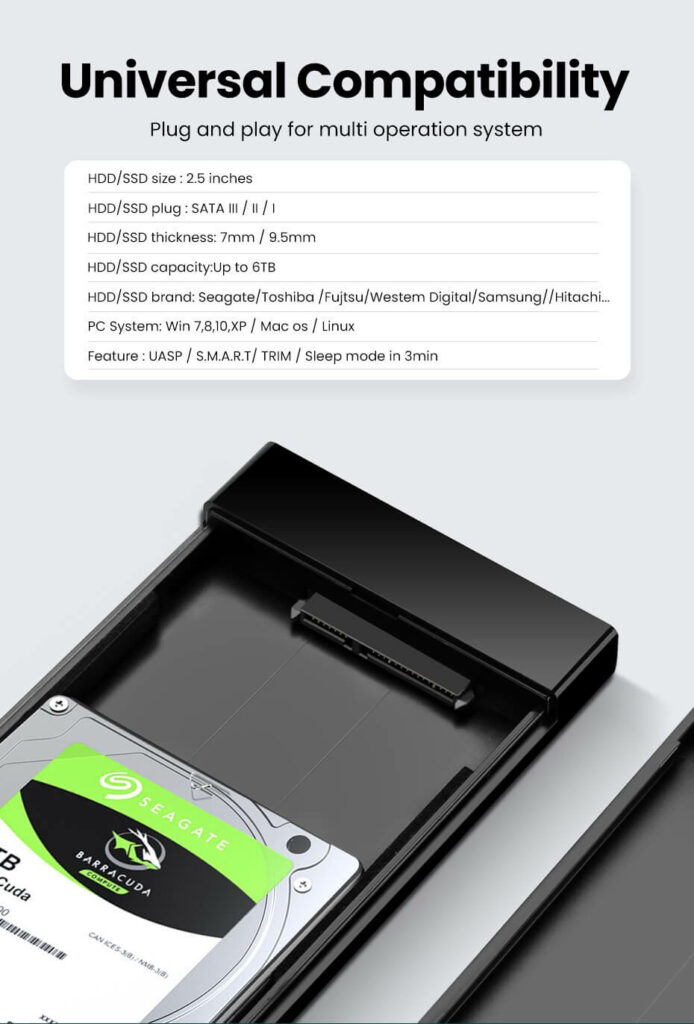 Easy Installation Tool-free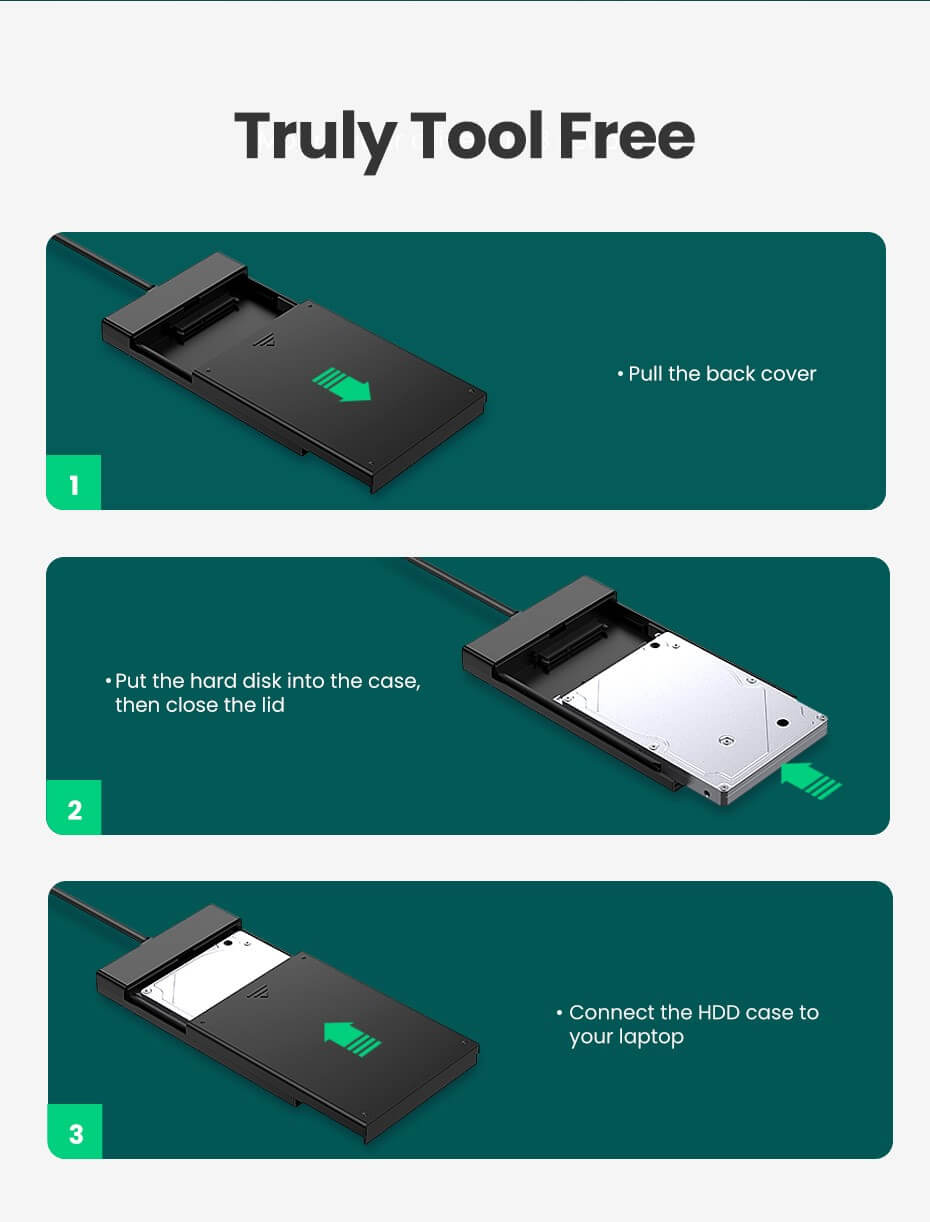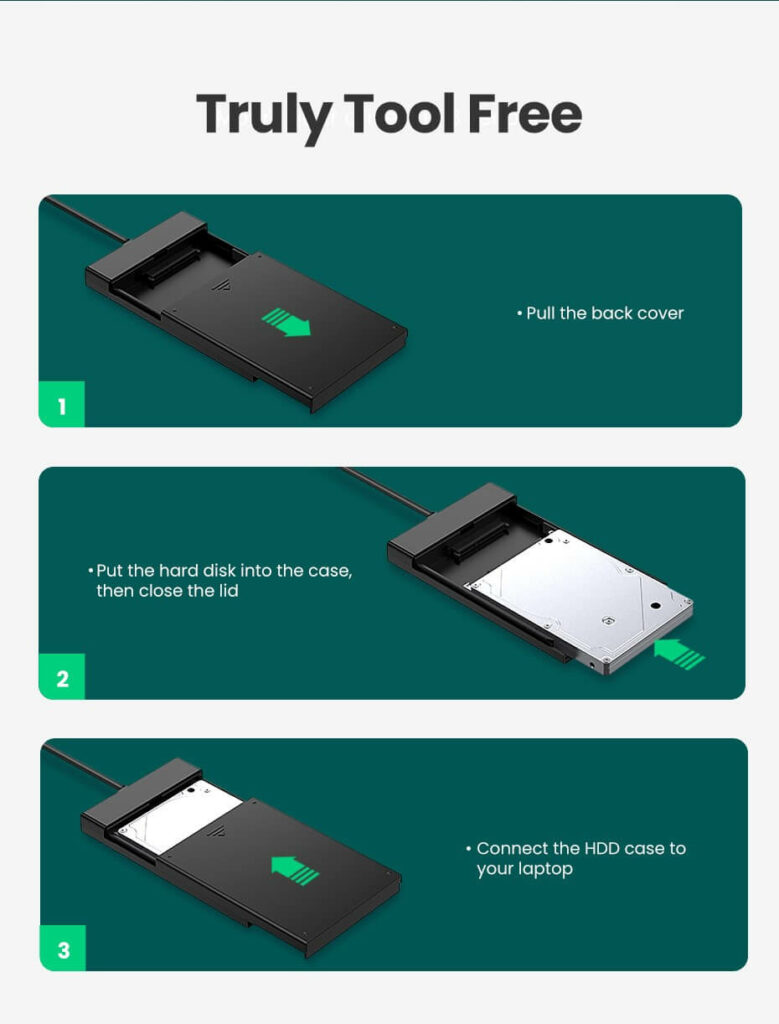 ASM235CM Smart Chipset Bridge Controller
Plug and play for a multi-operation system, don't need a driver.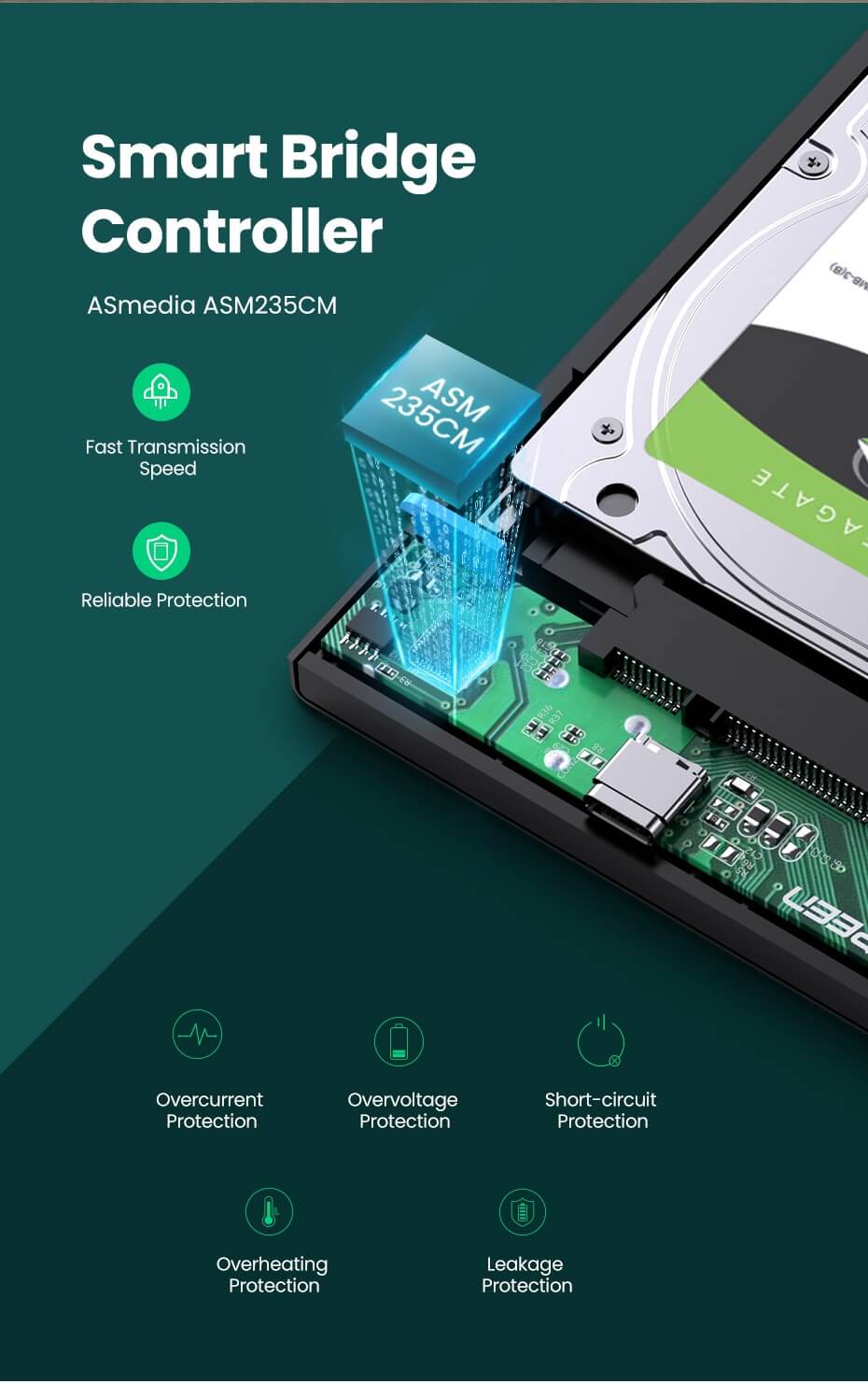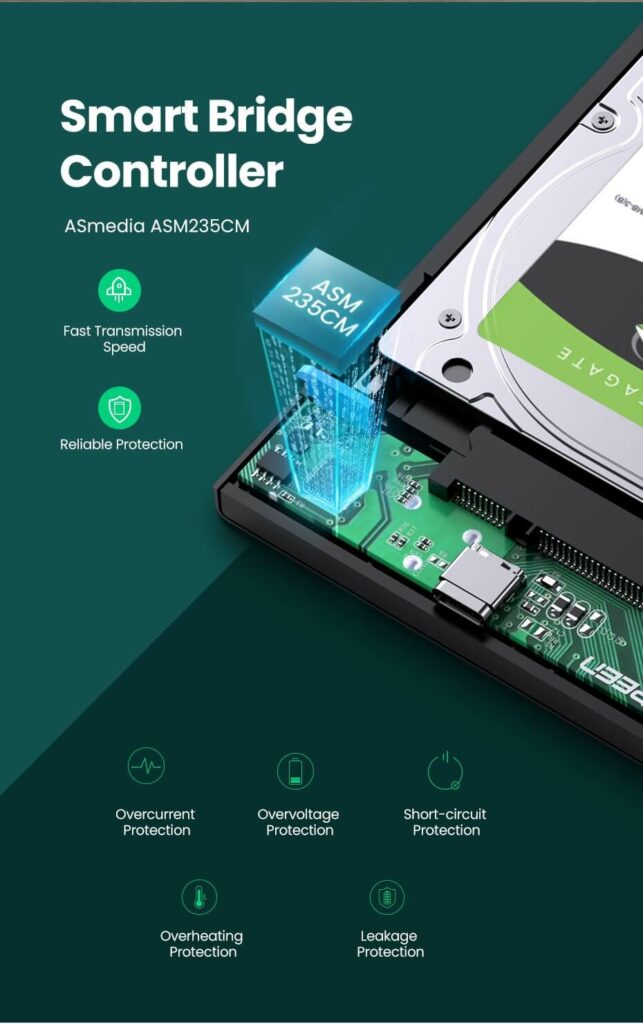 Smart Sleeping Mode
Save power and extend the lifespan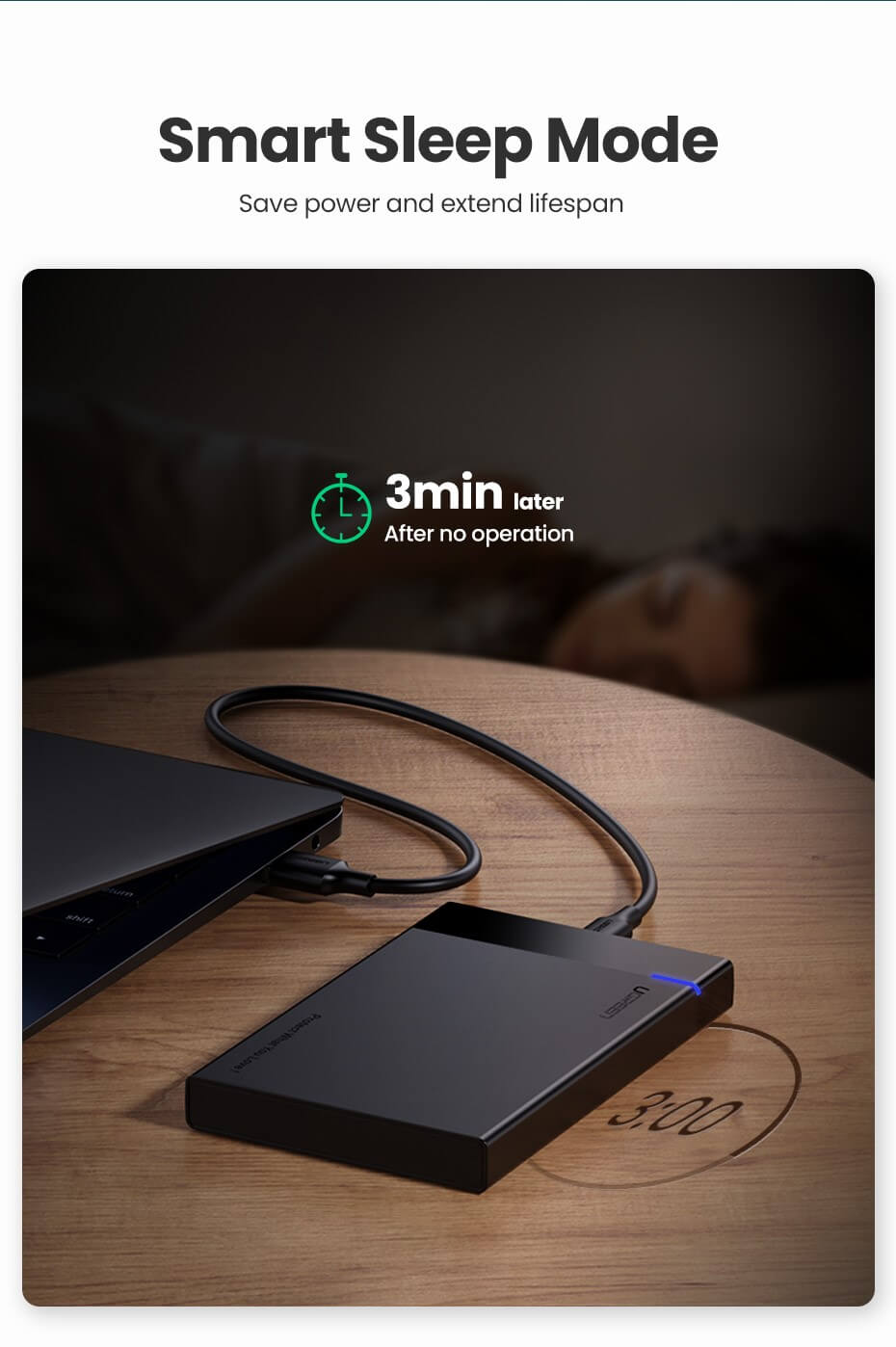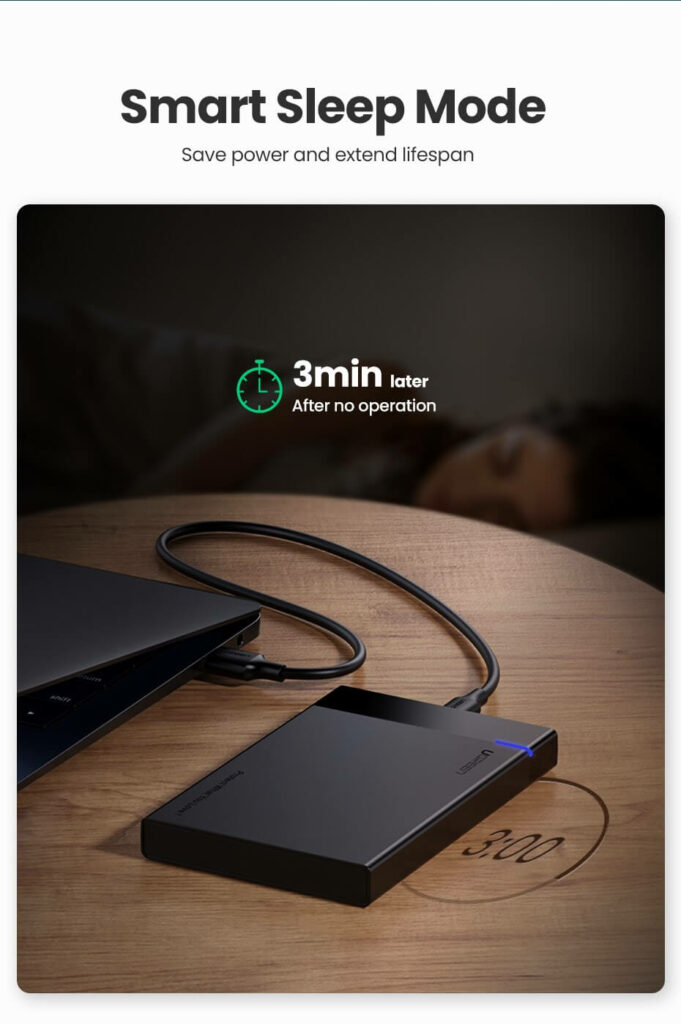 PS: if you need close sleeping mode, you can ask our customer service.
Support Up to 6TB
Support 10TB HDD/SSD theoretically; the capacity of most HDD / SSD is only 6TB max. at present.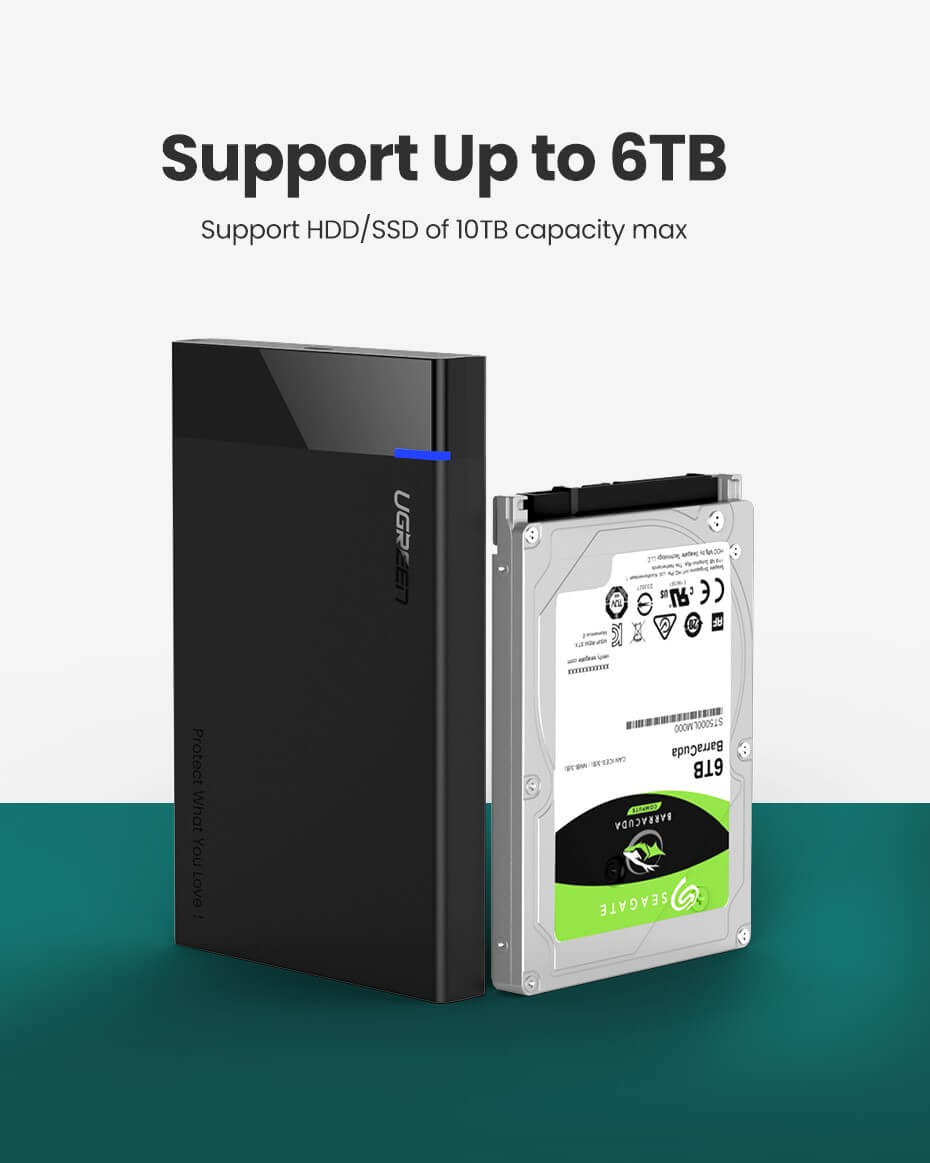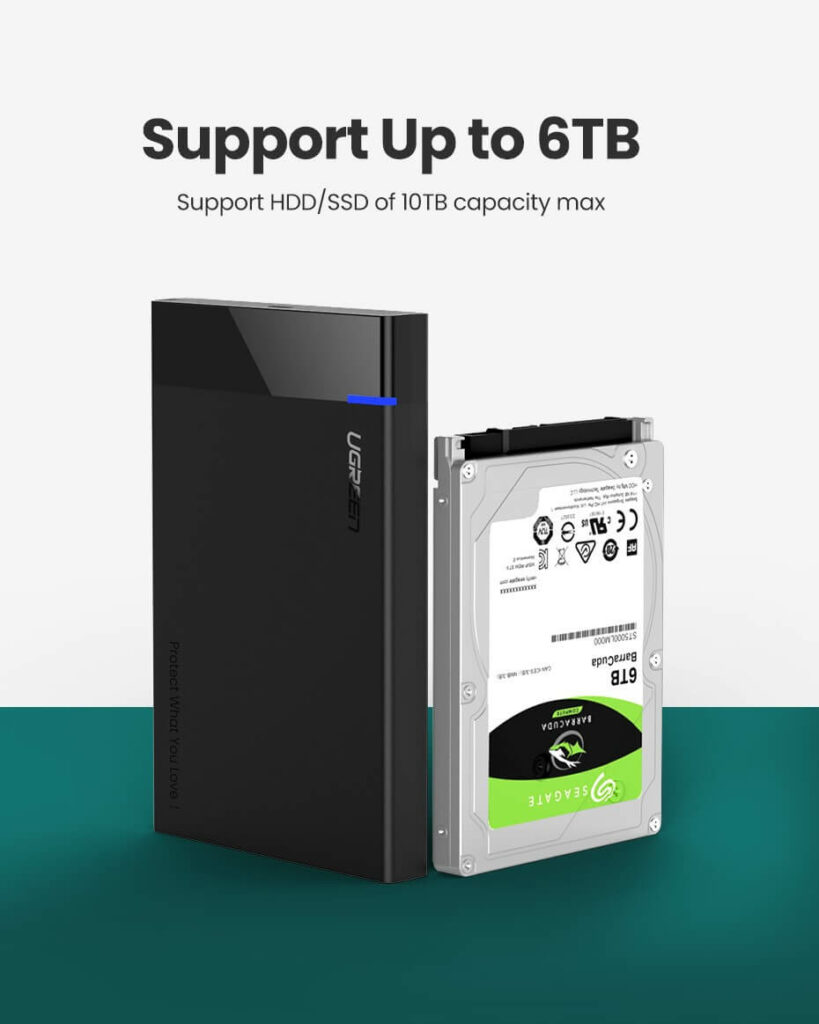 Soft EVA Foam Shock-proof
Soft EVA foams on 3 sides protect hdd/ssd from shaking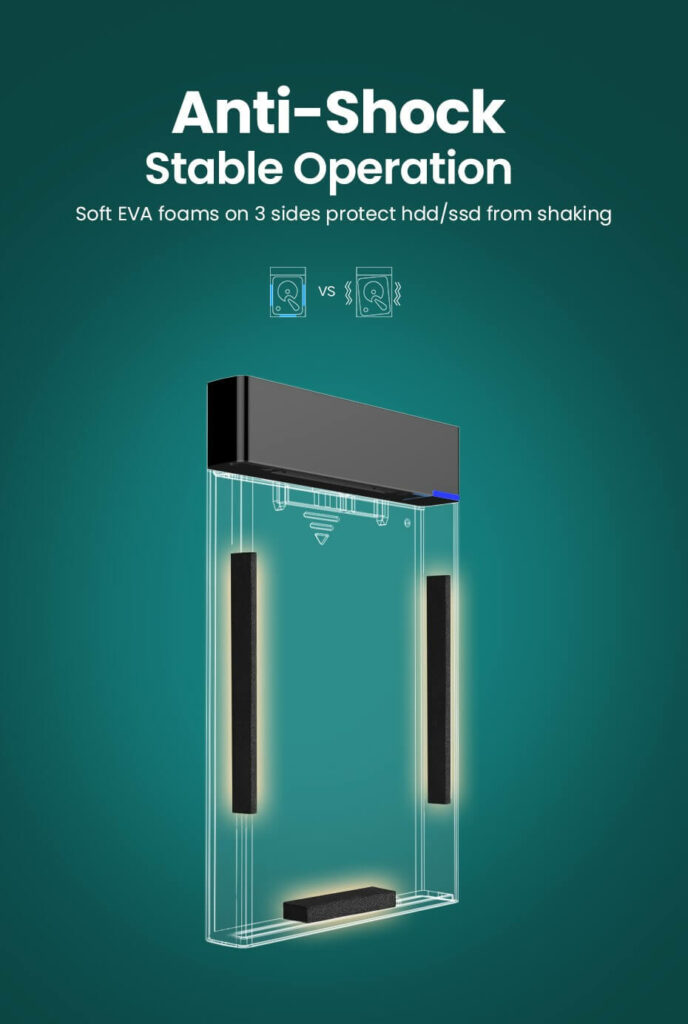 LED Indicator Light
Always on when connected; Flashes when reading or writing.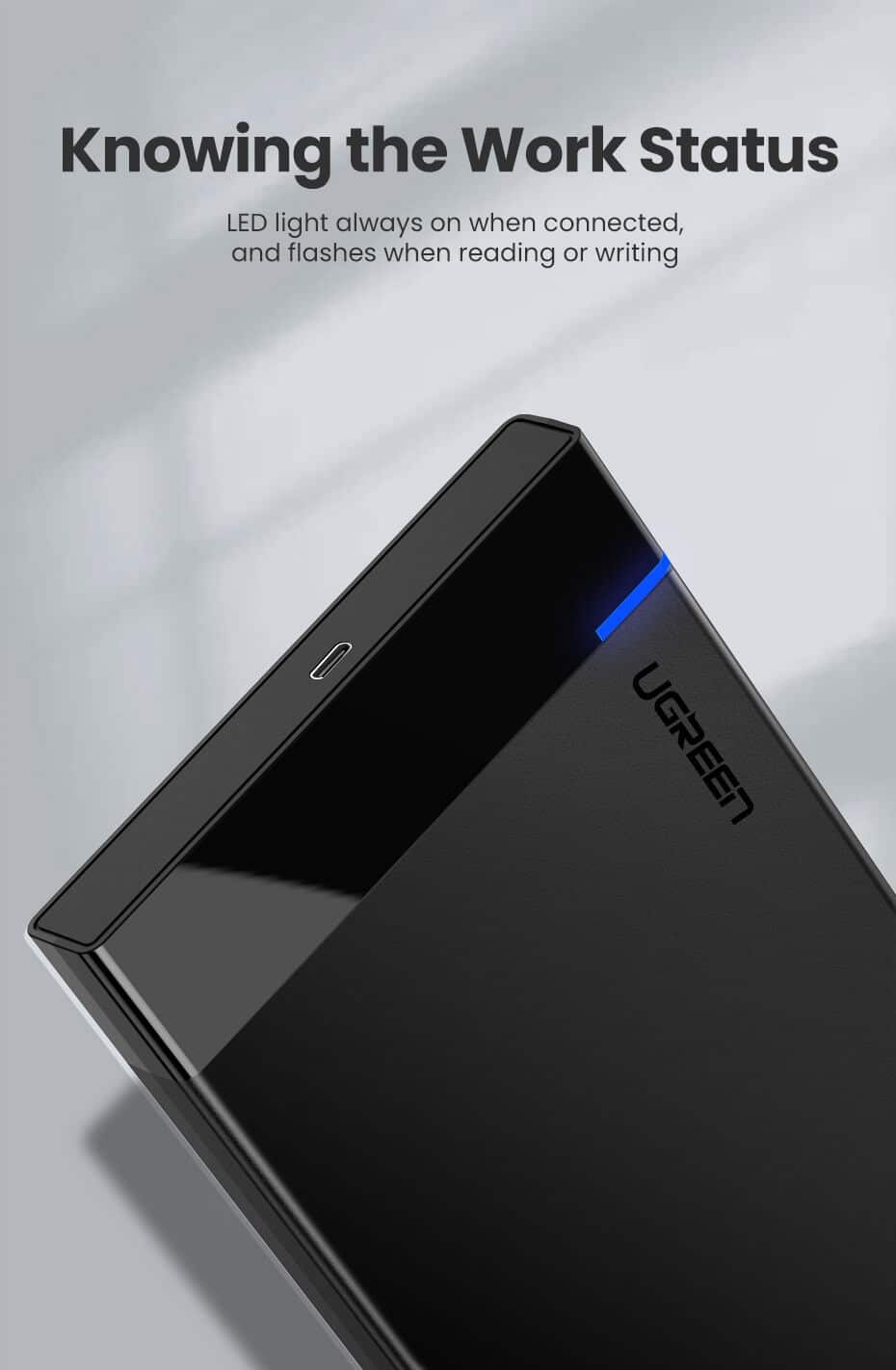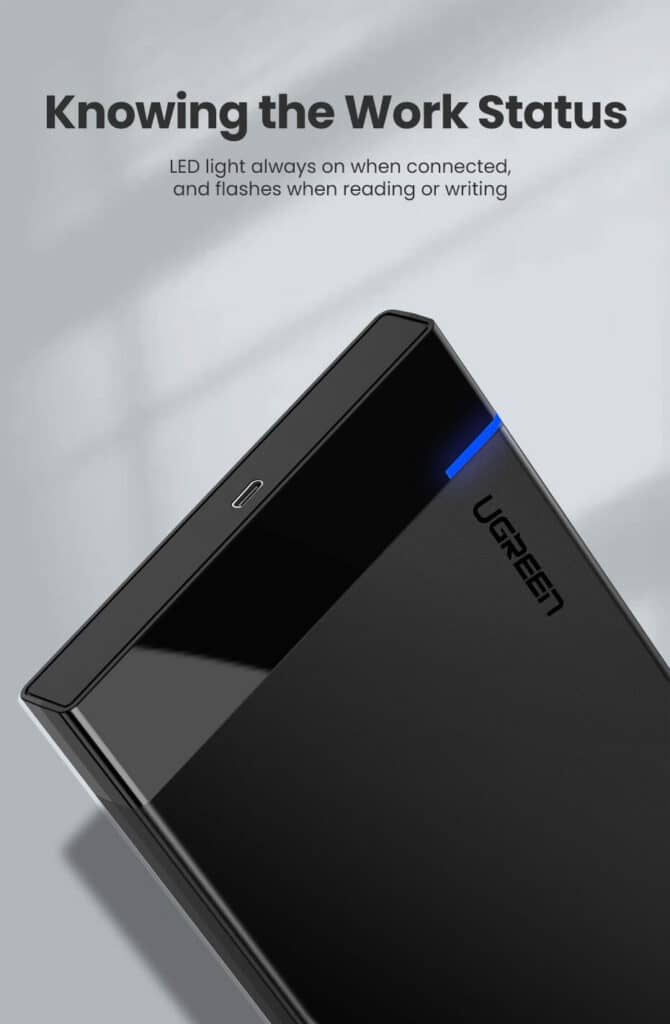 Product Specification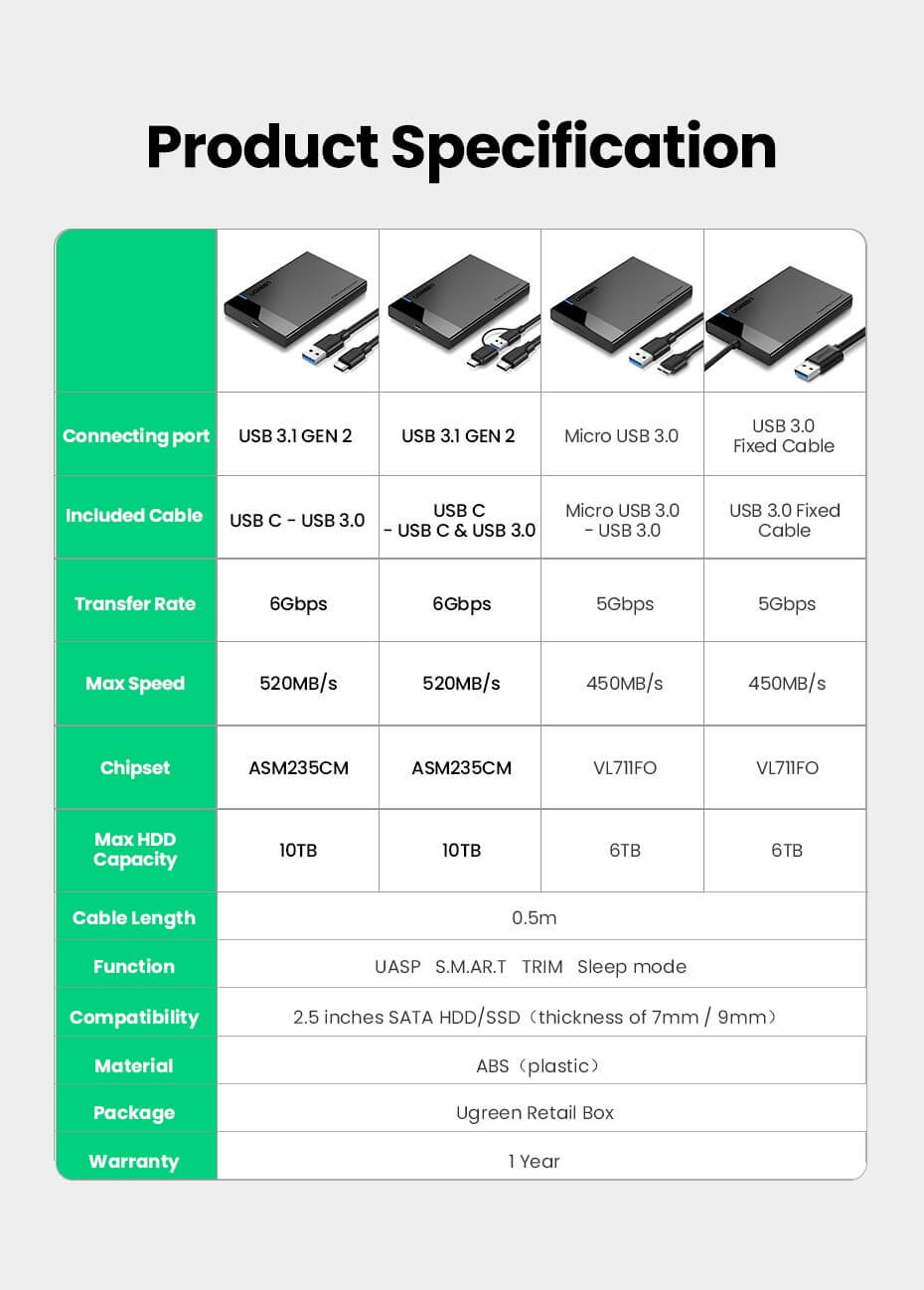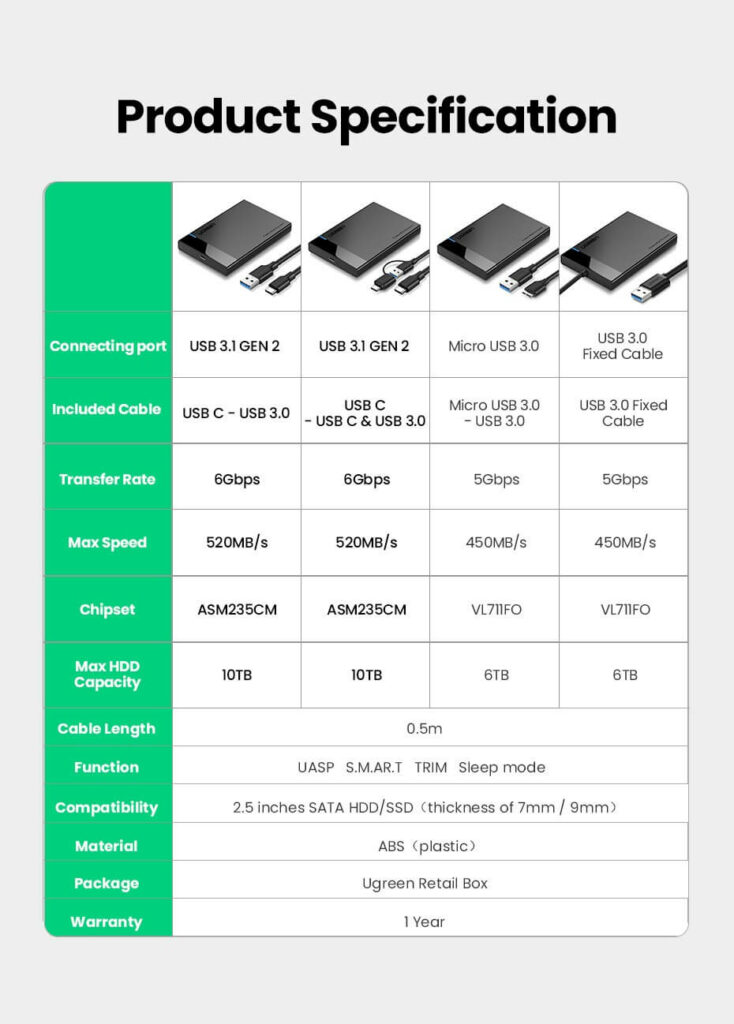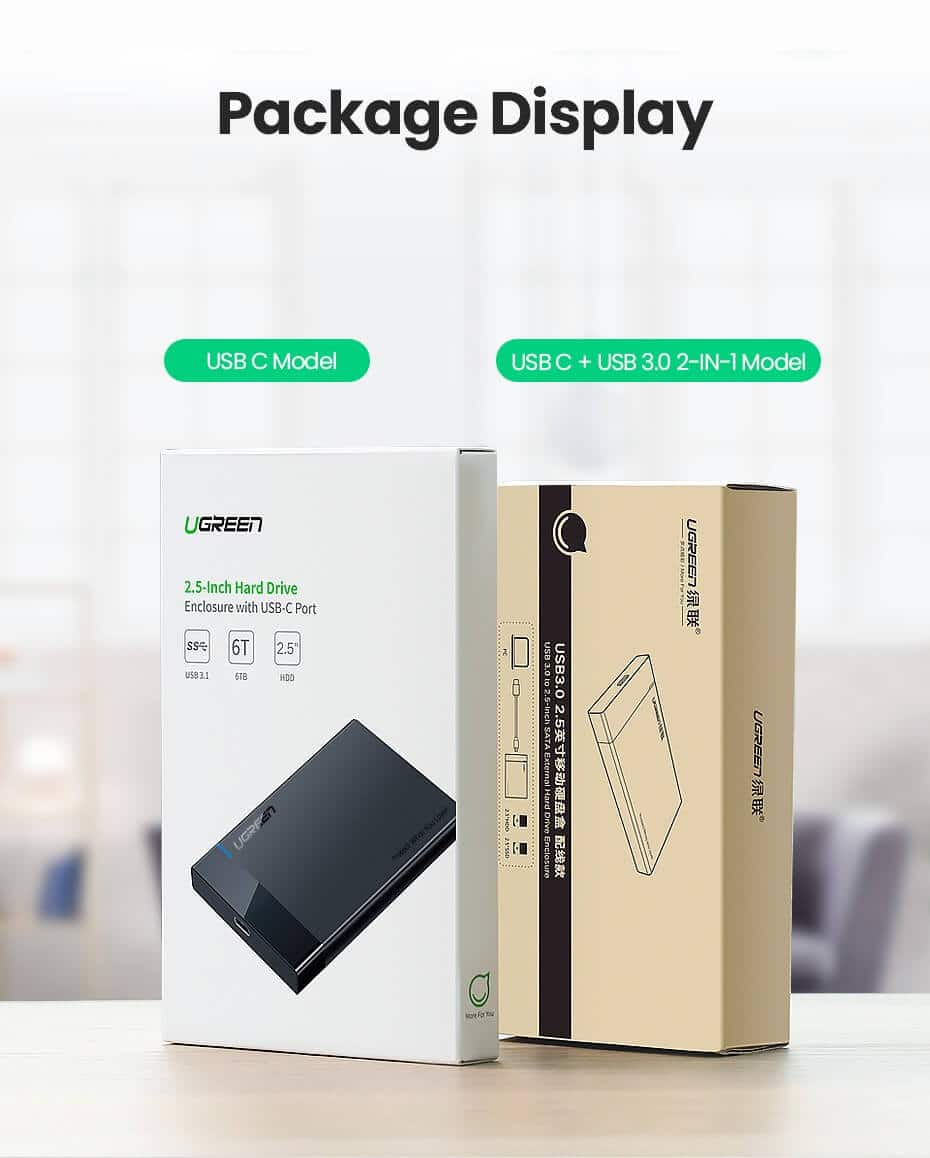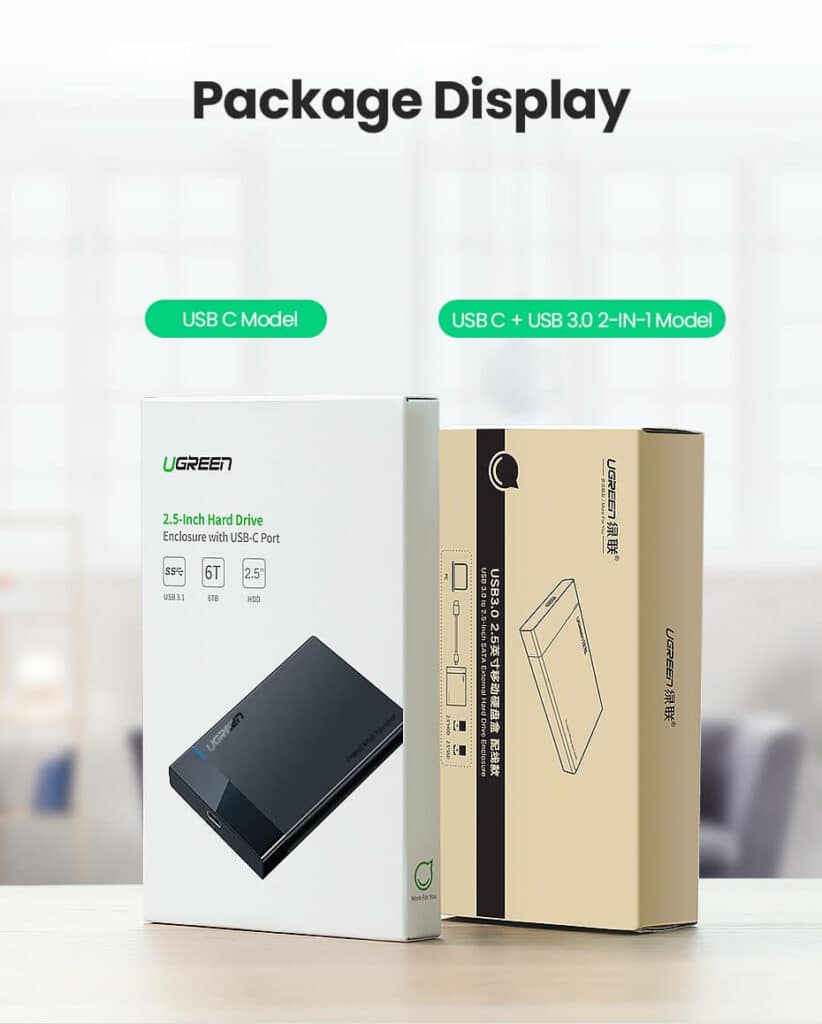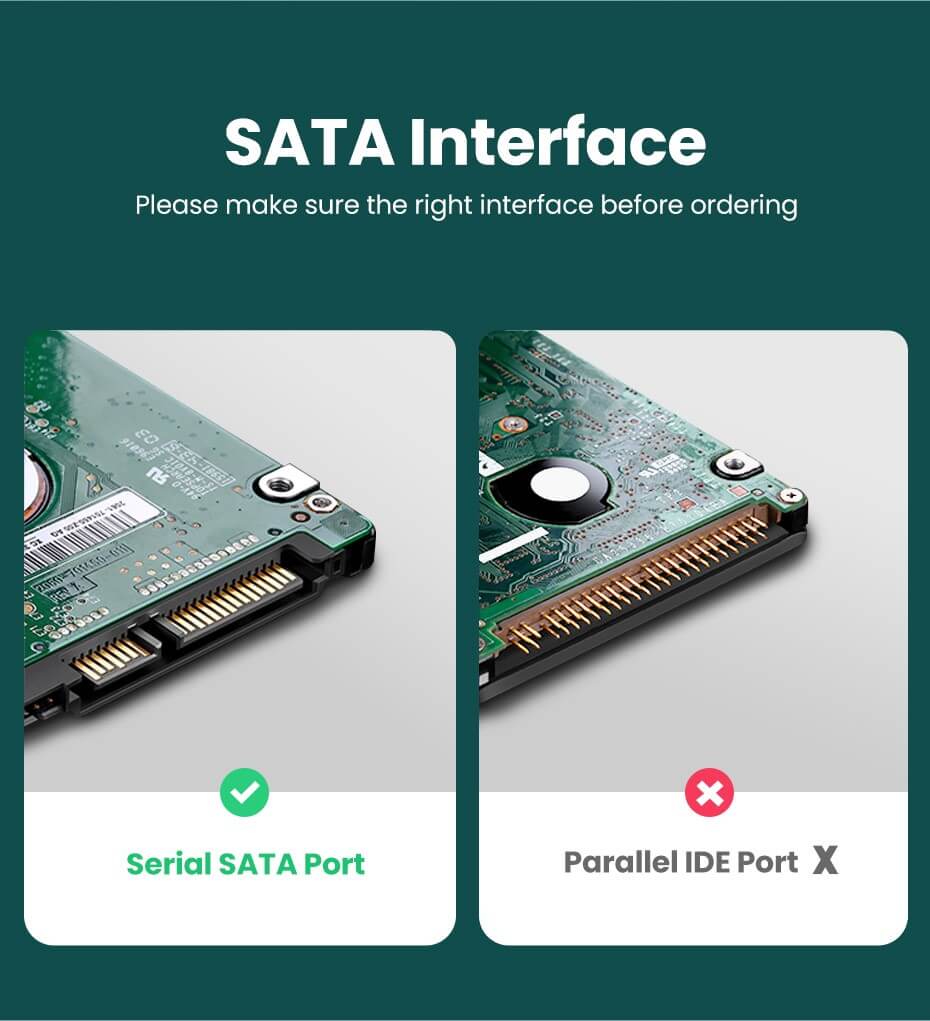 Purchase Note
* This product is only a protective case for hard drives, HDD/SSD is not included.
* There are 5 models available. Please choose a suitable model according to your needs:
1)Hot-selling Type C Model: Max6Gbpstransfer rate, comes with a 50cmUSB Type C to USB A 3.1 cable. (For use with Mac, pls make sure to use data sync. enabled USB-C to USB-C cable, length within 1 meter(Not Included). )
2) Type C Model-2: Max6Gbpstransfer rate, comes with a 50cm Type C to USB 3.0 & USB C 2 in 1 cable.(Newest Arrival)
3) Micro B Model: Max 5Gbps transfer rate, comes with a detachable 50cm Micro B to USB 3.0 cable.
4) Fixed Cable Model: Max 5Gbps transfer rate, comes with a non-detachable 30cm USB 3.0 cable.
5) Add Hard Drive Bag: HDD/SSD Enclosure (Type-C Model ) + HDD Bag ( Inner Size: 16*8.5*4.4cm ), and store your HDD/SSD or HDD/SSD enclosure.
Warm Reminder
For a new unused hard drive, it's necessary to make a partition at first. Otherwise, it can not be recognized.
To achieve the UASP function, please make sure that the device, operating system, and controller are all UASP function enabled.
Always safely remove the disc from the PC before unplugging this product.
Do not suggest the connection with a 12.5mm hard drive. The slide cover cannot be closed in this case.
Win XP 32bit system does NOT support hard drives above 2TB.
For the Type C Model, as SATA-interface hard drives support max 6Gbps transfer rate, so Type C HDD enclosure could reach up to 6Gbps.
Does NOT support a hard drive that is powered with DC 12V. (Pls confirm power mode from the back of the hard drive)
| | |
| --- | --- |
| Brand Name | UGREEN |
| Supporting Hard Drive Capacity | 10TB |
| Internal Interface | SATA |
| Size | 2.5" |
| Case Material | Plastic |
| Model Number | US221 |
| Package | Yes |
| External Interface | USB |
| Connection Port | USB C |
| Port Tech | USB 3.1 Gen 2 |
| Max speed 1 | 10Gbps (USB-C 3.1 Gen 2 port) |
| Max speed 2 | 6Gbps (7+15 Pin SATA III ) |
| Tested Speed | 520MB/s max |
| Chipset/Bridge Controller | ASMedia – ASM235CM |
| Technology | UASP (USB Attached SCSI Protocol) |
| Feature | TRIM / SMART |
| Auto Sleep Mode | 3-min later after no operation |
| Setup | Plug and play |
| Installation | Tool- free |
| For HDD/SSD Size | 2.5 inches |
| For HDD/SSD Thicness | 7mm / 9.5mm |
| For HDD/SSD Capacity | 10TB max |
| For HDD/SSD Plug | SATA III / II / I |
| For HDD/SSD Brand | For Seagate / Toshiba/ Fujitsu… |
| For HDD/SSD Brands | Westem Digital / Samsung/ Hitachi… |
| For HDD/SSDs | SanDisk / Kingston / Crucial … |
Shipping & Delivery: all orders are shipped with tracking within 24 to 48 hours of you placing the order using USPS, Canada Post, or other carriers depending on your location and fastest available service. Free Worldwide Shipping
Typical delivery time frame is between 6 to 14 days. However, you may receive your items much earlier. All orders are shipped with a tracking number.
Satisfaction Guarantee: by purchasing our products you get a 2-year warranty and a 30-day free and easy returns right.